Heavy-duty Gas Springs From Guden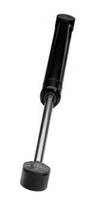 H.A. Guden, providing hinge and hardware and gas spring expertise for over 4 generations, at Guden we regularly incorporate new technology to advance on our hinge hardware and controlled motion gas springs offerings. Guden has an expanded line of continuous, butt welded, slip and specialty hinges available in aluminum and stainless steel. Guden is a complete source for all heavy duty hinges available from stock or to specs for all institutional, marine, military and OEM applications. Guden introduces our most popular product GG5-X Gas Springs with lift capabilities up to 250 lbs.

Guden Gas Springs now available with 5 year warranty (please contact us for details warranty information). GG5-X model is equipped with our patented multilube seal which significantly reduces gas leakage to make our gas springs the most reliable in performance. A complete range of stock rod & tube diameters & compressed, stroke & extended sizes are available for immediate delivery. Custom forces & sizes maybe specified for the GGS 20, 30 & 40 series, lightweight, compact & manufactured of heavy gauge steel body making H.A. Guden any application engineers 1st choice.

We have the country's largest supply of continuous hinges serving marine, military and shipboard for all harsh environment outdoor exposure. Continuous hinges, also known as piano hinges, can be customized for any design engineering project. Also available is US Navy locker hardware manufactured to BuShips drawing number S-3200-860055.

H.A. Guden offers a sophisticated CAD system and a complete design facility with a customer service and technical support staff ready to help you with your specifications. ISO 9000 certified , our products are RoHS compliant and available from stock in a wide assortment of sizes and styles that include butt, slip, and specialty hinges, as well as handles, pulls, catches. Standard gas springs and dampers, stainless steel gas springs and locking gas springs in stock for immediate shipment.

Competitively priced quality continuous hinges in all leaf thicknesses, open widths and lengths. Call for fast friendly professional service at 800-3-HINGES. CAD drawings available for engineering support @ www.guden.com, please visit us online today for all your hinge and gas spring requirements.

More from Machinery & Machining Tools