Heavy Duty Engine Oil offers soot fighting capabilities.
Press Release Summary: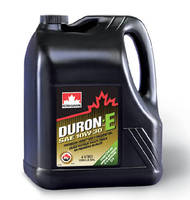 Formulated for both on- and off-road fleets, API CJ-4 category DURON-E 10W-30 offers extended drain intervals, low engine wear, minimized oxidative thickening, corrosion protection, and optimal top-up and cold start-up performance. Product is suited for 4-stroke diesel, gasoline, and natural gas automotive applications where SAE 10W-30 is recommended, including engines equipped with exhaust aftertreatment devices such as diesel particulate filters and catalytic reactors.
---
Original Press Release:

Petro-Canada Expands Heavy Duty Engine Oil Product Line With Addition of DURONTM-E 10W-30



Mississauga, Ontario, Canada - December 9, 2008 - Petro-Canada today announced the launch of DURON-E 10W-30, a new addition to their extensive line of API CJ-4 category, next-generation heavy duty engine oils (HDEOs). DURON-E 10W-30, specially formulated for both on- and off-road fleets, provides a number of performance benefits, including excellent soot dispersancy, extended drain capabilities, low engine wear and good top-up and cold start-up performance. Petro-Canada's CJ-4 product offering now includes this new DURON-E 10W-30, DURON-E Synthetic 10W-40, DURON-E XL Synthetic Blend 15W-40, DURON-E 15W-40 and DURON-E Synthetic 0W-40.

"We endeavour to provide an integrated HDEO product line - one that fulfils all of our customers' needs throughout multiple applications," says Paula Del Castilho, Petro-Canada's Commercial Transportation Lubricants Category Manager. "We don't simply sell oil, we sell lubricant solutions. In the case of DURON-E 10W-30 we're providing a solution to on- and off-road fleets that are in need of a premium 10W-30 heavy duty engine oil that performs and protects."

DURON-E 10W-30 is suitable for 4-stroke diesel, gasoline and natural gas automotive applications where SAE 10W-30 is recommended. Applications include engines equipped with exhaust aftertreatment devices such as diesel particulate filters (DPFs) and catalytic reactors. DURON-E 10W-30 is also completely back-serviceable and not only fits into the CJ-4 category but also CI-4 Plus, CI-4, CH-4 and CG-4/SM. OEM credentials currently include Caterpillar ECF-3, ECF-2, ECF-1-a; Cummins CES 20081; Volvo VDS-4; and Renault VI RLD 3.

"Since our first-to-market launch of our DURON-E brand back in 2006 we have continued to develop and build our HDEO product offering," adds Del Castilho. "In 2007 it was the addition of our DURON-E Synthetic 0W-40 - which has been very well-received - and now it's our 10W-30 formulation. It's all about listening to customers, and evolving and innovating based on their needs. Stay tuned because 2009 is shaping up to be another great year, with more exciting announcements to come."

About The DURON-E Brand

The brand was the first CJ-4 heavy duty engine oil to hit the market in 2006. It meets and exceeds current category requirements and is suitable for use in '07 EPA compliant low emission engines and is also back-serviceable for use in pre-'07 engines. The DURON-E brand is recognized as being amongst the highest quality heavy duty engine oils available today. Performance benefits include enhanced soot fighting capabilities, low engine wear, extended drain intervals, improved piston deposits, reduced oxidative thickening and excellent corrosion protection. It's also able to handle the additional soot loads of new engine technology, protect exhaust aftertreatment devices and extend DPF life.

About Petro-Canada

Petro-Canada blends and packages more than 350 different lubricants, specialty fluids and greases that are exported to more than 60 countries on six continents. Products are manufactured from 99.9% pure base oils - among the purest in the world. As the world's largest producer of white oils and the leading supplier of factory fill automatic transmission fluids, Petro-Canada is focused on going beyond today's standards. With more than 30 years of experience in blending Groups II and III base oils, the company delivers a diverse line of innovative lubricants to meet an ever increasing range of international specifications. Petro-Canada specializes in offering customers products and services proven to increase productivity and lower operating costs, lubrication consolidation, technical leadership and training.

For more information on products and services, please call 1-800-268-5850 (English Canada), 1-800-576-1686 (French Canada), 1-888-284-4572 (United States), +44 (0) 2476 247294 (Europe), or visit lubricants.petro-canada.com (TSE: PCA, NYSE: PCZ).

DURON-E 10W-30 - specially formulated for both on- and off-road fleets

Petro-Canada Lubricants:
o Agricultural Sprays o Automotive & Heavy Duty Lubricants o Base Oils o Electrical Transformer Fluids o Food Grade Lubricants o Gear Oils o Greases o Heat Transfer Fluids o Hydraulic Fluids o Natural Gas Engine Oils o Specialty Fluids o White Mineral Oils

More from Test & Measurement