Heavy Duty Combination Wrenches come in extra large sizes.
Press Release Summary: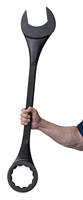 Offered with openings ranging from 2 9/16 to 4 in. and from 55-80 mm, and in lengths up to 3 ft, Extra-Large Combo Wrenches are made from drop-forged steel for strength and durability. Open ends are precisely machined for firm grip on fasteners, while 12-point box ends optimize accessability. Wrenches with opening sizes up to 2¾ in. or 70 mm come with satin finish, protecting them against corrosion and providing slip-resistant grip. Larger sizes have non-reflective black oxide finish.
---
Original Press Release:
Stanley Proto Introduces Extra Large Combo Wrenches
Big, heavy-duty wrenches will serve the most demanding users. Conyers, GA, April 29, 2009 - Stanley Proto Industrial Tools has expanded its already extensive line of combination wrenches with the addition of 23 new Extra-Large Combination Wrenches. The new wrenches are designed to meet the needs of users in heavy industries, especially those who work on oil and gas production rigs or in the mining industry. These big wrenches are the epitome of heavy duty. They come in standard and metric sizes, with openings that range from 2 9/16 to 4 in., and from 55 to 80 mm. Lengths go up to 3 ft., giving users the leverage they need to work on stubborn fasteners. Heads are made from drop-forged steel for strength and durability. Open ends are precisely machined for a firm grip on fasteners, while 12-point box ends help users work quickly and help improve accessibility (a 12-point head need only be lifted and turned 30 degrees to re-engage the fastener, while a 6-point head requires a 60 degree turn.) The inside edge of the box end is countersunk around its entire circumference to ensure that it slips easily onto fasteners. Wrenches with opening sizes up to 2 ¾ inches or 70mm come with a satin finish, protecting them against corrosion and providing a slip-resistant grip. Larger sizes have a non-reflective black oxide finish for use where non-plated products are required. Stanley Proto's sales force has received many requests for these wrenches from customers in various heavy industries - Oil and Gas Exploration, Industrial Construction, and Mining in particular - so there's a clear demand in the marketplace. About Stanley-Proto Stanley Proto Industrial Tools has been making durable, high-quality hand tools for over 100 years, having grown from a small machine shop to a worldwide supplier. Our tools are developed according to strict ergonomic standards, with features that let users work faster and easier, including enhanced shock absorption and reduced slip. Markets including auto, steel, and airplane manufacturing plants, chemical plants, refineries, general manufacturing, transportation, and fleet maintenance for trucking, transit, and aircraft. For more information call 800-800-TOOL, or go to www.stanleyproto.com Company Contact Information Stanley-Proto 2195 East View Parkway, Suite 103 Conyers, Georgia 30014 800-800-TOOL 770- 787-3800 stanleyproto@stanleycustomersupport.com www.stanleyproto.com Please send sales leads to E. (Lenny) Acuna Project Coordinator- Stanley Direct Fulfillment 4 Applegate Drive Robbinsville, NJ 08691 609-208-2684 609-208-0922 - fax elinore.acuna@directgroup.net
More from Software