Heating Boilers range from 40,000-120,000 Btu/hr.
Press Release Summary: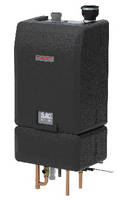 Available in 4 models, CADET(TM) Heating Boiler features fully modulating burner that adjusts firing rate to match heat loss of home. Wall-mount unit has commercial-grade ASME-certified heat exchanger and polypropylene jacket that deadens sound and protects against dents. Equipped with push-button digital control, CADET offers constant display of actual output temperature and allows adjustment of setpoint. Combination unit, offering hydronic space heating and domestic water heating, is available.
---
Original Press Release:

Introducing the Low-Cost, High-Effiency Cadet(TM) Heating Boiler



The Best All-Around Value in Today's Home Heating Market

FOR IMMEDIATE RELEASE - The new modulating/condensing CADET(TM) Heating Boiler offers fuel cost savings and outstanding quality at a lower price point than other high-efficiency designs on the market today. Available in four standard boiler models with gas inputs ranging from 40,000 to 120,000 Btu/hr, these compact, wall-mount units can handle the heating load for almost any home. In addition, a 120,000 Btu/hr "combination" unit offers both hydronic space heating and domestic water heating capabilities.

Affordable Efficiency

Designed to economically deliver high efficiency, CADET's fully modulating burner adjusts the firing rate of the boiler to match the heat loss of the home, reducing burner cycling and increasing overall system efficiency. With 95 percent AFUE efficiency, CADET can significantly lower heating bills. In fact, CADET could save more than $1,400 in fuel costs over the course of six years. In addition, depending on where it is installed, CADET may qualify for Energy Tax Credits or rebates for further cost savings.

Durable Design

The CADET Heating Boiler features a commercial-grade, ASME certified heat exchanger. The ASME "H Stamp" signifies the highest standards for design, materials and manufacturing. CADET's lightweight, expanded polypropylene jacket offers easier handling and installation. In addition, it deadens sound for quieter operation and prevents against dents and scratches.

Controlled Comfort

Equipped with a push-button digital control, CADET offers a constant display of actual output temperature and allows for easy adjustment of the setpoint. The control's outdoor reset functionality helps CADET maintain a steady, consistent indoor comfort level year-round. The digital control features a sensor that monitors outdoor temperature for fluctuations and resets the heating water temperature as needed.

Flexible Venting

CADET can be installed with a wide variety of venting configurations, including vertical or sidewall direct venting. Capable of meeting even the most challenging installation requirements, air intake and exhaust vent runs up to 100 feet can be utilized using polypropylene, PVC, CPVC or stainless steel pipe. This venting flexibility is ideal for projects that require new vent materials when a non-condensing boiler is being replaced.

Cost-Effective Combination

In addition to the four standard heating boiler models (CDN040, CND070, CDN100 and CDN120), the CADET is also available in a combination unit for both hydronic space heating and domestic water heating (CCN120). The CCN120 is equipped with a separate heat exchanger that delivers 3.0 GPM of domestic hot water at a 70-degree temperature rise. Its integrated flow switch, water temperature sensor and timer ensure that the space heating and water heating demands are always met, without the need for a separate costly and space-consuming storage tank.

For more information about the high-efficiency, low-cost CADET, please visit www.cadetboiler.com.

More from Electrical Equipment & Systems