Heating and A/C Split Systems have efficient, serviceable design.
Press Release Summary: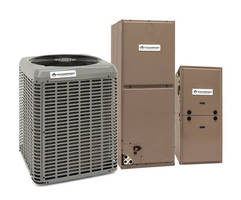 Designed for facilitated installation and servicing by contractors, Champion residential heating and air-conditioning split systems include air conditioners, heat pumps, gas furnaces, and air handlers. Indoor and outdoor products, which meet 2015 U.S Department of Energy efficiency standards, offer top and side access to commonly serviced items as well as footprints sized to accommodate gates, hand trucks, vans, and site pads. Select outdoor units feature sound levels down to 71 dBA.
---
Original Press Release:
Contractor-Friendly Design and Efficient Operation Make All-New Champion Residential Split Systems from Johnson Controls Easy to Sell, Install and Service
Systems meet 2015 efficiency standards and offer energy savings of 29 percent

MILWAUKEE – The all-new Champion residential heating and air-conditioning split systems from Johnson Controls, a global multi-industrial company, feature a contractor-friendly design and efficient operation that make the new units easy for contractors to sell, install and service.

"These products are backed by Johnson Controls' quality control and assembly processes to equip our contractors with the products and support they need to sell and install with confidence," said Liz Haggerty, vice president and general manager, Johnson Controls Unitary Products Group. "Our robust product portfolio includes a variety of price points to meet a wide range of customer requirements."

Johnson Controls invested more than 125,000 hours of research, design and lab-verified quality testing procedures in the Champion residential split systems. Tests included five years of accelerated field testing, extreme weather testing (from 140°F down to -10°F) and salt spray testing to measure material corrosion, performance and durability. The result is a family of air conditioners, heat pumps, gas furnaces and air handlers with a contractor-friendly design that features easy top and side access to commonly serviced items and a smaller footprint to accommodate gates, hand trucks, vans and site pads. Contractors will also appreciate:

Indoor unit with front-mounted controls and slide-out blower
Outdoor unit with convenient, sealed, swing-out control box
Factory-installed liquid line filter drier
Conveniently located service valves
Sturdy, flat fan guard design that resists dents
Smooth edges for easier handling
Standardized design that reduces complexity with fewer replacement parts contractors must carry in inventory and on service trucks
Indoor and outdoor units designed for system optimization and precise matchups
Standardized design that reduces complexity by requiring fewer replacement parts to carry in inventory and on service trucks
Easy access to products and support teams for seamless business operation
Additional selling features include outdoor units that reduce sound levels to 71 dBA and an improved airtight indoor cabinet design that meets strict 2 percent or less air leakage requirements. In addition, a corrosion- and rust-resistant coated finish on steel wire fan guards and external fasteners and pre-treated, G90-equiavalent galvanized steel chassis components combine to enhance durability.

In addition to these features, all Champion residential split systems meet 2015 U.S Department of Energy efficiency standards and offer significant energy savings. Air conditioners with a 14 Seasonal Energy Efficiency Ratio (SEER) are 29 percent more efficient than older 10 SEER models. The completely redesigned family of products will include units with a 21+ SEER. The units are also rated in accordance with AHRI Standards 210/240 and meet relevant ASHRAE 90.1, EPACT 2005 and ENERGY STAR® standards.

To learn more about Champion residential split systems, visit http://www.championhomecomfort.com/lxsplitsystems, or talk to your local WinWholesale representative. To identify a WinWholesale location near you, visit www.championhomecomfort.com.

Champion® products from Johnson Controls include energy-efficient, residential central air conditioners, heat pumps, furnaces and accessories, and innovative light-commercial, packaged heating and cooling systems marketed through a national distribution network and delivered to home- and building-owners through qualified Champion heating and cooling contractors. For more information about Champion, visit www.championhomecomfort.com or follow us on YouTube and @Champion_HVAC on Twitter.

Johnson Controls
Johnson Controls is a global diversified technology and industrial leader serving customers in more than 150 countries. Our 170,000 employees create quality products, services and solutions to optimize energy and operational efficiencies of buildings; lead-acid automotive batteries and advanced batteries for hybrid and electric vehicles; and interior systems for automobiles. Our commitment to sustainability dates back to our roots in 1885, with the invention of the first electric room thermostat. Through our growth strategies and by increasing market share we are committed to delivering value to shareholders and making our customers successful. In 2015, Corporate Responsibility Magazine recognized Johnson Controls as the #14 company in its annual "100 Best Corporate Citizens" list. For additional information, please visit http://www.johnsoncontrols.com or follow @johnsoncontrols on Twitter.

Please Direct Reader Inquiries to:
Steve Hoffins
Director of Marketing – Unitary Products
Johnson Controls
507 E. Michigan St.
Milwaukee, WI 53202

Related Links:
Johnson Controls: http://johnsoncontrols.com/
Champion: www.championhomecomfort.com
More from Packaging Products & Equipment