Heater Seals meet UL 197 and IEC-IS 60335-2-47 standards.
Press Release Summary: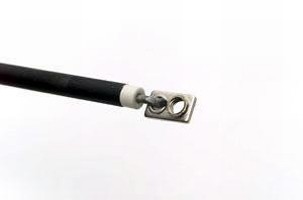 V Seal, V Seal Plus, A Seal, and RX Seal are able to handle extended storage in high humidity environments. Tubular seals prevent moisture ingress and offer service life over variety of service temperature applications, 300°F max. Products are designed for OEM as well as overseas transport applications.
---
Original Press Release:

Chromalox Develops Moisture Resistant Tubular Element Seals with Higher-Temperature Limits



PITTSBURGH, PA - April 5, 2006 - Chromalox ®, the world's largest manufacturer of electric industrial heaters, has developed tubular heater seals that not only meet the recently issued UL 197 standards, but also IEC-IS 60335-2-47 "Commercial Boiling Pans", an international import inspection standard with stringent current leakage limitations. In both of these standards, resistance to moisture ingress for cold resistance inspection testing is paramount, as well as the ability to control leakage current during operation.

The V Seal, V Seal Plus, A Seal and RX Seal were developed as low-cost alternatives to a hermetic seal, for long-term storage in high humidity environments. After exposure in a high humidity environment, it is extremely critical that leakage current remains low. This relates directly to the life and reliability of the element prior to energizing into service. Many original equipment manufacturers need to export their end products. The products must meet stringent international import standards for leakage current, which can be affected by moisture absorbed during transport and extended periods of storage. Chromalox has exceeded the design requirements by developing these seals for the export market. Chromalox seals meet international standards such as IEC-IS 60335-2-47, "Commercial Boiling Pans", and ensure customer compliance for acceptance.

In addition, recent changes to the UL 197 "Commercial Electric Cooking Appliances" Standard have made it imperative for OEMs to specify component heating elements that are operating within their Conditions of Acceptability in the element manufacturer's UL file, while in service in the OEM's unit. UL 197 also defers to the Resistance to Moisture Test contained in UL 1030/499. Each of the newly designed Chromalox seals enables OEMs to specify both required features in one heating element.

Advantages of Chromalox V Seal, V Seal Plus, A Seal and RX Seals:
Lower cost
Prevent moisture ingress
Long-term shelf-life
Ideal for extended storage purposes in high humidity environments
Meet IEC-IS 60335-2-47, "Commercial Boiling Pans" standard
Long service life over a wide variety of service temperature applications
Potential Applications:
Overseas transport
High humidity storage environments
Low cumulative effect of leakage current where GFI tripping is unacceptable

For more information, go to www.chromalox.com/Literature/PDSV-Seal.pdf or contact Chromalox at:


Telephone:                    800-443-2640

                              412-967-3800

Fax:                          412-967-5148

Internet:                     www.chromalox.com

Address:                      Chromalox, Inc.

                              103 Gamma Drive

                              Pittsburgh, PA  1523


About Chromalox, Inc.

For more than 85 years, customers have relied on Chromalox for the utmost in quality and innovative solutions for industrial heating applications. Chromalox manufactures the world's largest and broadest line of electric heat and control products, including heating components, immersion heaters, circulation systems, heat transfer systems, boilers, industrial and comfort air heating, heat trace cables, sensors and precision electronic controls. With multiple manufacturing, engineering, warehousing and sales locations throughout North America and Europe, Chromalox is a global supplier providing the highest level of customer support. Chromalox is headquartered in Pittsburgh, PA.

Kathleen Posteraro
Chromalox, Inc.
412-967-3888
kathleen.posteraro@chromalox.com
or
Barbara Lee
Chromalox, Inc.
412-967-3803
barbara.lee@chromalox.com

More from Controls & Controllers