Heat Trace Panels suit indoor and outdoor applications.
Press Release Summary: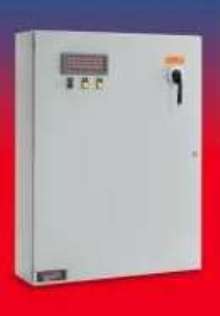 Freeze Protection WeatherTRACE control panels offer flexible power distribution, ground fault protection, circuit alarms, line sensing, and ambient sensing controls. Sentinel Monitoring option indicates ground fault or overload condition and identifies which circuit is at fault. Panels are NEMA 4, single-door, wall-mount enclosures. They are available in 12, 18, 20, 30 and 42 position panel boards with 100 and 225 A bus ratings in single and 3-phase configurations.
---
Original Press Release:

New Freeze Protection Heat Trace Panels Offer Accurate and Flexible Control for Virtually Any Environment


PITTSBURGH-November 19, 2003 - Chromalox® announces a new line of WeatherTRACE(TM) heat trace control panels with flexible power distribution, ground fault protection, circuit alarms, line sensing, and ambient sensing controls.

The WeatherTRACE Sentinel Monitoring option offers alarms that indicate a ground fault or overload condition and identifies which circuit is at fault via a display on the front enunciator panel. This new capability reduces troubleshooting time and provides better indication of potential problems on the line. Sentinel Monitoring also offers a re-ring feature. Re-ring allows the WeatherTRACE to communicate additional alarm conditions in the system by momentarily clearing and resetting the alarm output contact. The customers' monitoring devices, such as a PLC or DCS, can interpret this condition as an additional alarm occurring.

The WeatherTRACE system incorporates an enclosure, circuit breakers, panel boards, monitoring, and GFI breakers to reduce onsite assembly, labor, and wiring time by consolidating multiple functions in one box. These panels meet UL and cUL approvals, always include detailed documentation, comply with NEC ground fault requirements, and are produced in an ISO9001:2000 manufacturing facility.

The panels are NEMA 4, single-door, wall-mount enclosures for indoor and outdoor applications. Standard models are available in 12, 18, 20, 30 and 42 position panel boards with 100 and 225 amp bus ratings in single and three-phase configurations. Branch circuits are available in 20, 25, 30 and 40 amp single-pole and two-pole configurations with 30mA ground-fault equipment protection.

Stainless steel enclosures and built-in heaters are available as options for harsh environments. Type Z purge pressurization systems are also available for Class 1 Division 2 applications.

Freeze Protection Ambient Sensing Series - FPAS
The FPAS series controls groups of heat trace circuits with an external controller/thermostat. This system may be operated in two modes; automatically with the external controller, or in manual override via the Hand/Off/Auto selector switch.

Freeze Protection Line Sensing Series - FPLS
The FPLS series controls heat trace lines with individual line sensing controls. Multiple sensors can be used to control individual circuits based on application and amperage.

Freeze Protection Ambient Sensing Monitor Series - FPASM
The FPASM series controls groups of heat trace circuits with an external controller/thermostat. This system continually monitors the supply voltage to each heat trace circuit. Loss of voltage or a ground fault condition will trigger an automatic alarm condition.

Freeze Protection Line Sensing Monitor Series - FPLSM
The FPLSM series controls heat trace lines with individual line sensing controls. Multiple sensors can be used to control individual circuits. An annunciator panel will identify the faulted zone and ring the alarm.

For more information. To download the Product Data Sheet and obtain pricing information on the SSR line, or any Chromalox product, visit the company's web site at www.mychromalox.com or contact Chromalox at:

Telephone: 800-443-2640 412-967-3800
FAX: 412-967-5148
Internet: www.mychromalox.com
Address:Chromalox, Inc.
103 Gamma Drive Extension
Pittsburgh, PA 15238

About Chromalox, Inc.
For more than 85 years, customers have relied on Chromalox for the utmost in quality and innovative solutions for industrial heating applications. Chromalox manufactures the world's largest and broadest line of electric heat and control products, including heating components, immersion heaters, circulation systems, heat transfer systems, boilers, industrial and comfort air heating, heat trace cables, sensors and precision electronic controls. With multiple manufacturing, engineering, warehousing and sales locations throughout North America and Europe, Chromalox is a global supplier providing the highest level of customer support. Chromalox is headquartered in Pittsburgh, PA.

Products and company names listed herein are trademarks or trade names of their respective companies

More from Services