Heat Sink Mounting System features 3-piece design.
Press Release Summary: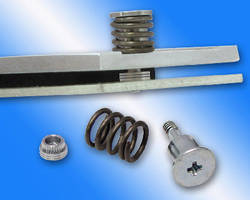 Consisting of PEM® Type HSCB™ captivating screw and PEM Type HSL™ spring mated to PEM Type HSR™ broaching receptacle nut or standoff, Heat Sink Mounting System securely attaches heat sinks to PCBs while providing firm and constant contact to chip component for optimized heat dissipation. Audible click serves to prevent over tightening by signaling when screw is fully engaged. Screws and broaching nuts or standoffs can be specified in thread sizes #4-40 to #6-32 / M3 and in various lengths.
---
Original Press Release:

PennEngineering® Awarded U.S. Patent for Unique Heat Sink Mounting System



PennEngineering® has been awarded U.S. Patent No. 9,113,567 for a unique three-piece heat sink mounting system designed to securely attach heat sinks to printed circuit boards while providing firm and constant contact to the chip component for optimized heat dissipation.  The inventor of this dynamic mounting system is Robert F. Stotz, Jr.



The patented mounting system consists of PEM® Type HSCB™ captivating screw and PEM Type HSL™ spring mated to a PEM Type HSR™ broaching receptacle nut or standoff.  The screw and spring mount together permanently into a heat sink and the receptacle nut/standoff mounts permanently to a printed circuit board.



After the screw and spring are captivated during the installation process, the heat sink can be attached easily to the board by simply tightening the screw into the receptacle nut/standoff.  An audible "click" serves to prevent over tightening by signaling when the screw is fully engaged and installation is complete.  (The screw will continue to rotate but will no longer be engaged in the threads or continue to actively tighten.)  The reliable and repeatable clamp force generated by the spring ultimately helps determine consistent and predictable clamp load on printed circuit board components.



Type HSCB screws and Type HSR broaching nuts or standoffs can be specified in thread sizes #4-40 to #6-32 / M3 and in various lengths.  Screws can be installed into aluminum or steel sheets as thin as .040" / 1mm and nuts/standoffs can be broached into boards as thin as .060" / 1.53mm.



Headquartered in Danboro, PA, USA, PennEngineering develops and manufactures precision fasteners and systems, specializing in thin sheet attachment solutions.  The Company operates fastener manufacturing facilities and key sales offices in North America, Europe, and Asia and is supported by a worldwide network of authorized engineering representatives and distributors. Visit www.pemnet.com.



Contact:

Leon M. Attarian

PennEngineering®

5190 Old Easton Road

Danboro, PA 18916-1000 USA 

Tel: +1-215-766-8853  

www.pemnet.com

More from Fasteners & Hardware