Heat Sink Mounting System ensures optimum heat dissipation.
Press Release Summary: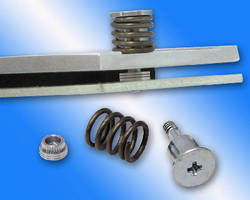 Comprising Type HSCB™ captivating screw and Type HSL™ spring mated to Type HSR™ broaching receptacle nut or standoff, PEM® Heat Sink Mounting System securely attaches heat sinks to circuit boards while providing firm and constant contact to chip component. System integrates audible click feature to prevent over tightening during installation, accommodates slight expansion and contraction of joint components without damaging circuitry, and allows for removal of heat sink if necessary.
---
Original Press Release:

Pem® Heat Sink Mounting System Provides Secure Attachment and Optimum Heat Dissipation



The new PEM® heat sink mounting system (patent pending) introduces an ideally engineered solution to securely attach heat sinks to circuit boards while providing firm and constant contact to the chip component for optimum heat dissipation.  The system additionally integrates a unique audible "click" feature to prevent over tightening during installation, accommodates slight expansion and contraction of joint components without causing stress or damage to delicate and expensive circuitry, and allows for removal of the heat sink if necessary.



This unique three-piece fastening system (individual parts supplied separately) consists of Type HSCB™ captivating screw and Type HSL™ spring mated to Type HSR™ broaching receptacle nut or standoff.  The screw and spring mount together permanently into the heat sink and the receptacle nut/standoff mounts permanently to the PC board.



After the screw and spring are captivated during the installation process, the heat sink can be attached easily to the board by simply tightening the screw into the receptacle nut/standoff.  The audible "click" serves to prevent over tightening by signaling when the screw is fully engaged and installation is complete.  (The screw will continue to rotate but will no longer be engaged in the threads or continue to actively tighten.)  The reliable and repeatable clamp force generated by the spring ultimately helps determine consistent and predictable clamp load on circuit board components.



Type HSCB screws and Type HSR broaching nuts or standoffs can be specified in thread sizes #4-40 to #6-32 / M3 and in various lengths.  Screws can be installed into aluminum or steel sheets as thin as .040" / 1mm and nuts/standoffs can be broached into boards as thin as .060" / 1.53mm.



Detailed specifications and performance data (Bulletin HSCB) for this RoHS-compliant engineered mounting system can be accessed at www.pemnet.com.  Custom solutions can be developed to meet specific application requirements.



Contact Michael J. Rossi, PennEngineering®, 5190 Old Easton Road, Danboro, PA 18916-1000 USA.  Phones: 800-237-4736 (toll-free in the U.S.) or 215-766-8853; Fax: 215-766-0143.  Web site: www.pemnet.com

More from Fasteners & Hardware