Heat Shrinkable Tubing features 8:1 shrink ratio.
Press Release Summary: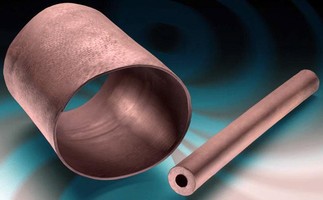 Suitable for applications where tubing must conform to oddly shaped substrates or fit over large objects, RAYCHEM URHT is flame-retardant, black, cross linked polyolefin tubing. It can also be used to insulate electronic components and other electrical assemblies/devices. Tubing operates over -55 to +135°C range and comes in 2 and 3 in. sizes that shrink, respectively, to 0.23 and 0.34 in. ID. Cut lengths up to 10 in. are available.
---
Original Press Release:

New Heat Shrinkable Tubing With Extreme Shrink Ratio



Eight-to-One Shrink Ratios Now Possible

HARRISBURG, Pa. - May 18, 2007 - Tyco Electronics has developed a new heat-shrinkable tubing with an eight-to-one shrink ratio; RAYCHEM brand URHT heat-shrinkable tubing. URHT heat-shrinkable tubing is flame retardant, black, cross linked polyolefin tubing with an ultra high shrink ratio. While many heat-shrinkable tubing products offer shrink ratios from 2:1 to 4:1, URHT tubing shrinks at an 8:1 ratio. With a high shrink ratio, URHT is suitable for applications where the tubing must conform to an oddly shaped substrate or fit over large objects like connectors and other components that are found in electrical wiring harnesses. For many connector and cable repair applications, URHT will allow repairs to be made without de-pinning the connector. In addition to the applications in wiring harness repair, URHT can also be used to insulate electronic components and other electrical assemblies and devices. URHT tubing is suitable for OEM applications in the aerospace and defense market as well as the industrial and commercial field. Furthermore, URHT is particularly useful in the industrial, marine and rail industry aftermarkets as well as MRO.

URHT is available in two sizes: 2 inch (shrinks to 0.23 inches) inside diameter and 3 inch (shrinks to 0.34 inches) inside diameter. Cut lengths up to ten inches are available. The operating temperature range for URHT heat shrinkable tubing is -55 degrees C up to +135 degrees C. Holt-melt adhesive lined product is also available for applications requiring sealing and additional surface adhesion to the substrate. URHT meets SAE-AS81765/1.

For more information on URHT tubing from Tyco Electronics, contact Tyco Electronics' technical support center at 800-522-6752 or send email to newproducts@tycoelectronics.com

ABOUT TYCO ELECTRONICS
Tyco Electronics, currently a business segment of Tyco International Ltd., is a leading global provider of engineered electronic components, network solutions and wireless systems, with 2006 sales of US$12.7 billion to customers in 150 countries. Tyco Electronics designs, manufactures and markets products for customers in industries from automotive, appliances and aerospace and defense to telecommunications, computers and consumer electronics. With over 8,000 engineers and worldwide manufacturing, sales and customer service capabilities, Tyco Electronics' commitment is its customers' advantage. More information on Tyco Electronics can be found at www.tycoelectronics.com.

RAYCHEM, the TE logo and Tyco Electronics are trademarks.Other trademarks are the property of their owners.

More from Architectural & Civil Engineering Products