Heat Shrinkable Tubing comes in FEP and PFA materials.
Press Release Summary: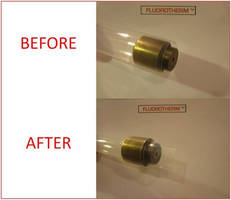 Available in 1, 2, and 3 ft lengths and in fractional ID sizes of 3/8, 7/16, ½, 5/8, and ¾ in., FEP and PFA Heat Shrinkable tubing has upper use temperature of 400°F. Product is corrosion resistant, protecting covered parts from chemical attack and mechanical damage. Seamless jacket is clear, electrically insulating, and anti-stick with optimal weathering properties. Available in 2 and 3 ft lengths, FEP Roll Covers come in ½, 5/8, ¾, 7/8, 1, and 1 ¼ in. fractional ID sizes.
---
Original Press Release:

Fluorotherm Introduces FEP and PFA Heat Shrinkable Tubing in Popular Diameters



Parsippany, NJ - Fluorotherm Polymers announces the introduction of FEP and PFA heat shrinkable tubing as well as FEP Roll Covers in popular diameters and standard lengths. As always, these new products are guaranteed with the protection of reliable Fluorotherm quality (see included photo).

Production will start with 'As Supplied to Shrunk Dimensions' of 1.3X and 1.5X and fractional sizes available in 3/8", 7/16", 1/2", 5/8" and 3/4".

Fluorotherm Heat Shrinkable tubing has an upper use temperature of 400 deg F (204 deg C). The high temperature and corrosion resistant tubing protects covered parts from chemical attack and mechanical damage. The seamless jacket is clear, electrically insulating, anti-stick, and shows excellent weathering properties that Fluorotherm has perfected.

FEP 1.3X shrinkable tubing dimensions are as follows (standard lengths of 1 ft, 2 ft, and 3 ft):


SIZE, INCHES                   AS             RECOVERED DIMENSIONS AFTER SHRINKING

                             SUPPLIED                WALL THICKNESS (INCHES)

FRACTIONAL ID   DECIMAL ID     ID            ID   MINIMUM    NOMINAL     MAXIMUM

3/8              0.375        0.500        0.383   0.011     0.015        0.019

7/16             0.438        0.580        0.448   0.016     0.020        0.024

1/2              0.500        0.666        0.510   0.016     0.020        0.024

5/8              0.625        0.830        0.637   0.021     0.025        0.029

3/4              0.750        1.000        0.764   0.026     0.030        0.034


FEP Shrinkable Roll Cover sizes, in inches, are available as follows (standard lengths of 2 ft and 3 ft):

 SIZE

INCHES      MINIMUM ID        ID WILL SHRINK

            SUPPLIED                TO

1/2          0.550                0.440

5/8          0.700                0.540

3/4          0.800                0.640

7/8          0.950                0.760

1            1.100                0.880

1-1/4        1.300                1.000


For quotes, please visit our website at www.fluorotherm.com

For questions or other inquiries, please e-mail us at sales@fluorotherm.com or call us at (973) 575 0760

More from Agricultural & Farming Products