Heat Recovery System captures heat from exhaust gases.
Press Release Summary: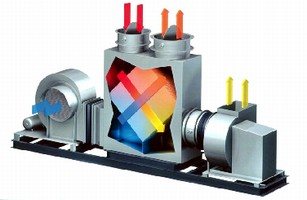 By extracting wasted heat from process dryers, ovens, and air pollution control systems, Process Heat Recovery System heats areas of plant or process. Measuring 4 x 21 ft, unit works with existing or new product lines. It prevents condensation from forming, eliminating disposal issues. System allows choice of heated air delivery or cooling air when ambient conditions permit, and is capable of energy recovery with source temperatures from 200-700°F.
---
Original Press Release:

MEGTEC Launches New Process Heat Recovery System



Saves energy by capturing heat from exhaust gases to reduce facility and process operating costs

De Pere, Wis., U.S.A., November 13, 2006 -MEGTEC Systems has introduced a new Process Heat Recovery System that uses the heated air from process dryers, ovens and air pollution control systems to immediately reduce operating costs by capturing waste heat.

"Thermal air management provides many opportunities to save energy and cut operating costs, " said Tim Golden, manager of MEGTEC's Engineering Services group. "MEGTEC is helping lead a revived emphasis on thermal air management and the corresponding positive impact it has on the bottom line."

MEGTEC's new Process Heat Recovery System extracts wasted heat energy and uses it to heat areas of a plant or process. This robust system is designed for efficient installation and overall cost-effectiveness. Each system is fully assembled and tested to ensure easy installation. It is designed to work with existing or new product lines. And with dimensions of 4 feel by 21 feet, it requires a minimal amount space due to its small footprint.

The flow arrangement of the system consists of a slipstream of heated air drawn from an exhaust duct or stack and passed through a heat exchanger and then returned to the exhaust duct or stack. Fresh outdoor air is drawn in and passed through the heat exchanger, where it is heated and controlled to a set point of 70 degrees F to 125 degrees F to provide supplemental heating or summer cooling.

Energy recovery is possible with source temperatures as low as 200 degrees F or as high as 700 degrees F. Safety features include temperature protection of the delivered air stream, as well as isolating it from the process and facility anytime the unit is turned off.

The Process Heat Recovery System allows the choice of either heated air delivery or cooling air when the ambient conditions permit. It also features an automatic mode for heating or cooling, turning the system on once preset conditions are met. In addition, the system:
o Has standard features that include easy interface with existing building climate controls for "on command" operation and an automatic interface with oxidizer or other heat source to prevent interference with existing processes.
o Prevents condensation from forming from the regulated air stream, which in turn eliminates the need of having to dispose of collected condensate and having to comply with any related regulatory issues.
o Maximizes energy recovery by automatically modulating system volume as a way to maintain the temperature set point for supplemental heating or summer cooling.

Projected energy savings
MEGTEC has an online energy savings calculator (megtec.com/heatrecovery) that will determine the approximate value of energy saved based on specific conditions.

MEGTEC Systems, a unit of Sequa Corporation, has a worldwide reputation for innovation and experience in technologies for web handling, air flotation drying, process thermal management, and emission control systems. MEGTEC serves customers in printing, web coating, converting and multiple process industries.

More from Health, Medical, & Dental Supplies and Equipment