Heat Pump Consoles incorporate communicating Aurora controls.
Press Release Summary: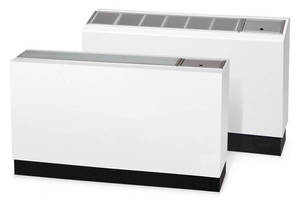 Envision Console and Envision Low Sill Console are available with communicating Aurora controls, which offer 2-way communication between components, advanced operating logic, and troubleshooting capabilities. Aurora Base Control (ABC) features MPU control to sequence all components during operation. Also available in console units, Aurora Universal Protocol Converter (UPC) incorporates features, performance, and controls of Aurora-based heat pumps into commercial building automation systems.
---
Original Press Release:

WaterFurnace Introduces Communicating Aurora Controls in Console Units



Fort Wayne, IN – WaterFurnace International, Inc., the leading manufacturer of geothermal and water source heat pumps, is pleased to announce that the Envision Console and Envision Low Sill Console are now available with communicating Aurora controls.



Aurora controls offer full two way communication between components, advanced operating logic and robust troubleshooting capabilities. The Aurora Base Control (ABC) features a microprocessor control to sequence all components during operation for optimum performance. In addition, the ABC provides easy-to-use troubleshooting features, including fault lights, onboard diagnostics and a handheld Aurora Interface Diagnostic (AID) tool.



Also available in console units is the Aurora Universal Protocol Converter (UPC). Designed to incorporate the advanced features, performance and controls of WaterFurnace Aurora-based heat pumps into commercial building automation systems, the Aurora UPC seamlessly communicates with Aurora boards and converts the Modbus protocol to BACnet MS/TP, LON or OpenN2 protocol. The module provides access to unit sensors, relay operations and faults and allows individual unit configuration – all without the need to manually access the heat pump. A portable touch-screen interface gives a technician full access to equipment status, parameter values, temperatures and humidity sensing, as well as access to alarm and trend history.



To learn more about WaterFurnace, visit www.waterfurnace.com.



More Information:

WaterFurnace International, Inc. is a leading manufacturer of residential, commercial, industrial and institutional geothermal and water source heat pumps. Although it earned a reputation as a leader in geothermal heat pumps, WaterFurnace has worked in recent years to innovate new technologies, integrate key trends and grow the core business to represent a portfolio of clean and sustainable solutions. WaterFurnace was founded in 1983, and the company is headquartered in Fort Wayne, Ind.



For the latest news and updates from WaterFurnace, connect with us on your favorite social media sites – follow us on Twitter (@WaterFurnace), like us on Facebook or view the WaterFurnace YouTube Channel. Additional information about the Company and its products is available at www.waterfurnace.com.



Related links:



WaterFurnace - http://www.waterfurnace.com/



geothermal - http://www.waterfurnace.com/geo_energy.aspx



heat pumps - http://www.waterfurnace.com/geothermal-heat-pumps.aspx



Envision Console - http://www.waterfurnace.com/products.aspx?pl=60&prd=Envision_Consoles



Envision Low Sill Console - http://www.waterfurnace.com/products.aspx?pl=60&prd=Envision_LowSill

More from Chemicals & Gases