Heat Exchangers are ideal for liquid-to-air applications.
Press Release Summary: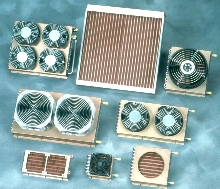 730 Series stainless steel-tubed heat exchangers are available in 16 models with and without attached fans and finger guards. Tubing and all manifold circuitry are constructed of 316L stainless steel which is mechanically bonded to riffled and corrugated copper fins. Frames are fabricated aluminum with gold irridite finish. Heat exchangers receive internal cleansing treatment with acidic, alkaline and deionized water flushes.
---
Original Press Release:
Ultra-Clean, Liquid-To-Air 730 Series Stainless Steel Heat Exchangers Available From Stock

Methuen, MA-November 2001-Thermatron Engineering Inc. offers an expanded family of super-clean, highly reliable, efficient and compact, liquid-to-air stainless steel-tubed heat exchangers.
Designated the 730 Series, these new Thermatron heat exchangers are designed for cooling semi-conductor manufacturing equipment, test equipment, electronics, industrial furnaces and ovens, medical and industrial lasers along with other demanding applications.

Available from stock, the 730 Series heat exchangers are manufactured to the highest reliability standards and are ideal for liquid-to-air applications with demanding coolant requirements including high purity deionized water or corrosive fluids.

Tubing and all manifold circuitry are constructed of 316L stainless steel, which is mechanically bonded to Thermatron's highly heat transfer efficient riffled and corrugated copper fins. The frames for each 730 Series product is fabricated aluminum with gold irridite finish complete with fan plenum
and mounting fixtures.

All joints are precision TiG welded to ensure maximum strength and durability. For optimum coolant loop purity, each 730 Series heat exchanger receives an internal cleansing treatment with an
array of acidic, alkaline and deionized water flushes at both high temperature and high flow rates. Internal passivation is also available. Terminations are MIL-SPEC stainless steel 37° AN flare fittings, hose heads, or stub-end tubes for customized connections.

Thermatron can also modify standard units and provide custom designed heat exchangers to meet the most stringent customer applications. The 730 Series is now available in 16 models with and without attached fans and finger guards

More from Adhesives & Sealants