Heat Exchanger Tubing withstands severe environments.
Press Release Summary: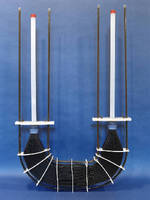 With non-stick characteristics, blister prevention, and resistance to corrosion and fouling, Q-Series Fluoropolymer Tubing extends heat exchanger service life. SLIMLINE Coil heat exchangers constructed from Q-series fluoropolymer resin handle many steam heating applications without de-superheating. With optimal thermal efficiency, Q-Series SUPERCOILS are suited for most metal finishing operations, particularly those involving electroless nickel and copper plating.
---
Original Press Release:

Ametek Introduces New Generation of Q-Series Tubing With Improved Performance in Severe Environments



NEWARK, DE- AMETEK Fluoropolymer Products has launched a new generation of Q-Series tubing with improved performance in severe environments. AMETEK's Q-tubing was the world's first filled fluoropolymer heat exchanger tubing. Now, with further advances in resin design and performance, AMETEK's Q-tubing provides best-in-class blister prevention in severe applications involving highly corrosive fluids, combined with high operating pressures and temperatures.

AMETEK's fluoropolymer heat exchanges have been used for more than 50 years, and AMETEK has more continuous years of industry experience than any other fluoropolymer tubing manufacturer. The inherent non-stick characteristics of fluoropolymer resins resist corrosion and fouling, extend heat exchanger service life, and improve value-in-use through savings in plant maintenance costs. In addition, their high electrical resistance minimizes the effects of stray currents in electroplating tanks.

AMETEK's proprietary fill technology provides increased thermal transfer performance, allows for use in applications with higher temperature and pressure, and prevents blistering in extreme conditions. Advances also have been made in resins, fill particle size & shape, purity and control of homogeneity.

AMETEK heat exchangers are available in the proprietary Q-Series tubing formulations, as well as FEP. Q-Series tubing significantly improves thermal efficiency and increases temperature and pressure capabilities. Q-Series heat exchangers are ideal for most metal finishing operations, particularly those involving electroless nickel and copper plating.

AMETEK SLIMLINE(TM) Coil fluoropolymer heat exchangers are widely used in the metal finishing and chemical processing industries and are especially suited to batch and continuous steel pickling applications.

SLIMLINE Coil heat exchangers constructed from AMETEK' s proprietary Q-series fluoropolymer resin compound offer improved durability, and pressure and temperature capabilities over conventional coils-high performance that enables AMETEK Q-Series SLIMLINE Coils to handle many steam heating applications without de-superheating. In metal processing applications, high-efficiency AMETEK SLIMLINE Coil heat exchangers also save energy, reduce waste and cut processing costs by minimizing acid consumption and spent pickle liquor disposal.

AMETEK SUPERCOIL(TM) heat exchangers are high-efficiency immersion coils designed for heating and cooling a wide range of metal finishing solutions. Applications include electroplating, electroforming and electroless plating baths; acidic and alkaline solutions for etching, chemical milling, anodizing, cleaning, stripping; electropolishing; and other similar operations.

SUPERCOILS made from Q-Series resin have significantly improved thermal efficiency and increased temperature and pressure capabilities. Q-Series SUPERCOILS are ideal for most metal finishing operations, particularly those involving electroless nickel and copper plating.

AMETEK heat exchangers are more durable and less brittle than glass and graphite and more corrosion resistant than most metals. They offer low extractables that can add contaminants or detract from the effectiveness of the fluids being heated or cooled. Additionally, shell-and-tube configurations are available with nonmetallic shells to eliminate any metal presence in proximity to fluid handling processes.

AMETEK Fluoropolymer Products is a unit of AMETEK, Inc. a leading global manufacturer of electronic instruments and electromechannical devices with annual sales of more than 3.0 billion. For additional information, contact AMETEK Fluoropolymer Products, 455 Corporate Blvd., Newark, DE 19702 USA. Phone: 800-441-7777. Fax: 302-995-0491. Web site: www.ametekfpp.com.

AMETEK SLIMLINE AND SUPERCOIL Q-SERIES HEAT EXCHANGERS

Product Description

Tube Outside Diameter 0.10 inch (2.54 mm)

Tube Wall Thickness 0.01 inch (.254 mm)

Average Heat Transfer 80 to 120 BTU/Hr.-ft.2-ºF

Coefficent Q (454 to 682 watts/m2-ºK)

Average Heat Transfer 40 to 60 BTU/Hr.-ft.2-ºF

Coefficient FEP (227 to 341 watts/m2-ºK)

More from Material Processing