Heat-Activated Adhesives bond metal to TPEs without primer.
Press Release Summary: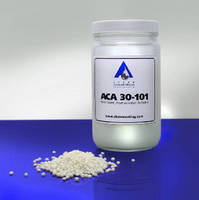 Developed for use with Santoprene® and other thermoplastic elastomers, ACA 30-101, 102, and 103 often eliminate need for primers and surface treatments. Water-based, heat-activated adhesives cover entire spectrum of TPE grades from soft to very hard, while delivering peel values up to and exceeding 25 lb/linear in. Products help minimize time required to manufacture overmolded products used in appliance, medical, automotive, packaging, and construction applications.
---
Original Press Release:
Heat-Activated Adhesive Bonds Metal to Santoprene(TM) and Other TPEs Without Primer
Developed specifically for use with Santoprene® and other thermoplastic elastomers (TPEs), Akron Coating and Adhesives (www.akroncoating.com) new family of water-based, heat-activated adhesives eliminate the need for costly surface treatments or primers. These new adhesives are designed to reduce the time and cost of manufacturing overmolded products used in appliance, medical, automotive, packaging, and construction applications. TPEs are increasingly used to replace thermoset rubbers in applications such as window seals, tool handles, and gaskets. They offer a number of advantages: they are highly flexible, can be combined with other thermoset materials, and they can be processed using standard extruding and injecting molding equipment. However, manufacturers who choose to incorporate TPEs into their products face several engineering challenges. Products made from TPEs are very difficult to bond. In order to insure good adhesion TPEs must either undergo special surface treatment or be coated with a primer. Finally, most of the commonly recommended adhesives contain volatile and toxic solvents. Akron Coating and Adhesives new ACA 30-101, 102, and 103 often eliminate the need for primers and surface treatments altogether, thus substantially reducing the cost of using TPEs. This family of adhesives is designed to cover the entire spectrum of TPE grades from soft to very hard. They provide excellent adhesion, with peel values of up to and exceeding 25 lbs. per linear inch (including substrate tear). Typically, the adhesive is coated to the metal substrate and is processed using standard using standard injection molding or extrusion equipment. Because they are water based, they also simplify EPA and OSHA compliance. About the Company
ACA specializes in high-performance water-based coatings and adhesives for automotive, manufacturing and medical applications. ACA products process on coaters such as gravure, nip-fed reverse roll, wire wound bar and knife over roll. Most products are RoHS compliant. The company is also equipped with a high quality 12-inch wide pilot coater for testing or for limited production of specialized products. A wide range of dispersion mixers and churns, from 1500 gal to drum size, are available for compounding formulae with viscosities from 100 to 2 million cps. For more information, contact Akron Coating and Adhesives, 367 Stanton Avenue, Akron, OH 44301. Tel: (330) 724-4716; www.akroncoating.com
More from Agricultural & Farming Products