Headphone Amplifier facilitates sound quality testing.
Press Release Summary: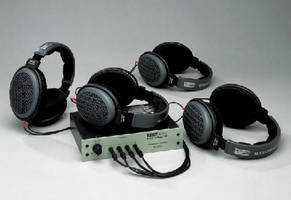 Supporting listening panels for up to 12 people, Model ZE-0769-004 is suited for sound evaluation during design phase, prototype evaluation, or troubleshooting of new vehicles. Since absolute level has direct effect on juror preference, headphone amplifier is designed to give same level in all channels and has stepped gain control to accurately return to previous setting. Amplifier produces exact replica of input signal and delivers unfiltered signal to all outputs.
---
Original Press Release:

Brüel & Kjær Launches Sound Quality Focused Headphone Amplifier



UK - Sound quality testing using consumer panels is now a much quicker process with Brüel & Kjær's new Headphone Amplifier ZE-0769-004.

Subjective listening tests are vital for assessing a product's competitiveness and usually involves the evaluation of a product's sound quality by a group (or jury), representing the targeted customer group, who undertake a listening test.

Typically this is usually a lengthy and expensive procedure, requiring each jury member to test drive the prototype vehicle, in order to report back on the sound quality. This process has been sped up by using a binaural head - such as a Head and Torso Simulator (HATS) - in the car to make a high quality recording of the sounds directly onto the hard disk of a computer. The recording is then played back to all the panel members via headphones, at an off site venue.

Since the absolute level has a direct effect on juror preference, the headphone amplifier is designed to give the same level in all channels and has stepped gain control to be able to accurately return to a previous setting.

The amplifier produces an exact replica of the input signal and delivers the unfiltered (and possibly attenuated) signal to all outputs.

The amplifier supports listening panels for up to 12 people and is ideal for sound evaluation during the design phase, prototype evaluation or trouble-shooting of new vehicles.

For more information, please contact: 01763 255 780 or ukinfo@bksv.com

About Brüel & Kjær

Brüel & Kjær is a world-leading manufacturer and supplier of sound and vibration solutions for use in a wide range of applications including: environmental noise measurements, building acoustics, vibration measurements and quality control for use in the automotive, aerospace and consumer industries, as well as by local authorities.
We design and manufacturer sound level meters, microphones and accelerometers, conditioning amplifiers, calibrators, noise and vibration analysers and software. To see our full range and for more information, please visit www.bksv.co.uk or contact our sales team: telephone +44 (0) 1763 255 780 or email: ukinfo@bksv.com

Brüel & Kjær also runs a variety of training courses throughout the year, from basic introductions on noise and it's effects to more specialised classes teaching customers how to get the most out of their equipment. To see our full training course calendar, visit: bksv.co.uk/Courses/Training%20Courses.aspx

Free, online training courses - conducted by our expert engineers - run throughout the year too. For registration details and the latest planned web training sessions, visit: www.bksv.co.uk/Courses/Webinars.aspx

Brüel & Kjær has two laboratories in the Royston Facility which are UKAS accredited to the international standard ISO/IEC 17025. Brüel & Kjær can provide traceable or accredited calibration for sound level meters, microphones, calibrators, artificial ears, conditioning amplifiers and accelerometers.

Brüel & Kjær has 1150 employees, with sales offices in 55 countries. Brüel & Kjær is a subsidiary of UK-based Spectris plc (www.spectris.com) which has annual sales of £787m and employs around 6,000 people worldwide in its 13 business units.

For additional information please contact:

Heather Wilkins

Marketing Coordinator

Bruel & Kjaer UK Ltd

Telephone: 01763 255 780

Web: www.bksv.co.uk

Email: heather.wilkins@bksv.com

More from Chemicals & Gases