Head Impact Management System protects athletes and soldiers.
Press Release Summary: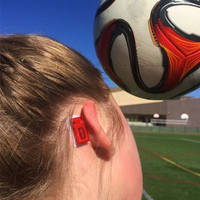 Comprising X-Patch Pro wearable impact sensor, X2 Impact Data Management app, and Integrated Concussion Evaluation app, X2 Head Impact Management System helps maintain health and performance of athletes and soldiers by limiting head impact exposure. Worn behind ear, sensor records head impacts and sends data via Bluetooth to IDM app on tablet, for instant viewing and immediate action. X2 ICE app is used for baseline testing and post-impact assessments of neurocognitive performance.
---
Original Press Release:

X2 Biosystems Introduces New, Comprehensive Head Impact Management System



Next-generation wearable impact sensor proven to help reduce the incidence of head impacts that can lead to injuries; new studies underway to develop personalized remove-from-play thresholds



REDWOOD CITY, Calif. and SANTA CLARA, Calif., -- Presenting at the 2016 Augmented World Expo in Santa Clara, CA, X2 Biosystems, the leader in wearable impact monitoring devices and neurocognitive assessment tools, today announced the introduction of its new, comprehensive X2 Head Impact Management System. The X2 System includes the X-Patch Pro next-generation wearable impact sensor, X2 Impact Data Management (IDM) app, and Integrated Concussion Evaluation (ICE) app. ICE is already used for baseline testing, post-impact sideline assessments, and return-to-play monitoring by the NFL, NHL and Major League Soccer, and is the leading tablet computer implementation of the internationally standardized SCAT test for athlete concussion evaluations.



X2 CEO John Ralston stated, "With the next generation X-Patch Pro wearable head impact sensor and data management platform, X2 is taking several significant steps to help maintain the health and performance of athletes and soldiers by limiting head impact exposure to levels below observable damage thresholds."



The new X-Patch Pro impact sensors -- significantly smaller, lighter and more accurate than any previous sensors on the market -- are worn behind the user's ear, using a small adhesive strip. The sensor records head impacts and sends the data via Bluetooth to the IDM app on a tablet, for instant viewing and immediate action.



The X2 IDM app makes it simple to set up and manage team rosters, assign sensors, view and analyze data, and receive alerts. Safer training and playing techniques that incorporate the X-Patch in a wide range of youth, high school, college and professional sports, as well as U.S. Army training activities, have demonstrated a 30% to 70% reduction in the incidence of head impacts that can lead to concussion injuries(1).



The X2 ICE app is used for baseline testing and post-impact assessments of the user's neurocognitive performance, along with documentation of remove-from-activity decisions, recovery, and return-to-activity readiness.



All X2 ICE and X2 IDM data is saved to the X2 Cloud Platform, providing analytics, automated reporting, and a detailed historical record of impacts, neurocognitive performance and actions over time.



The X-Patch is currently being used to help study cumulative brain damage due to repetitive sub-concussive head impacts, and to develop more comprehensive and personalized remove-from-play thresholds(2) in a wide range of athletic and military training environments around the world.



AboutX2 Biosystems (http://www.x2bio.com) X2 Biosystems merges wearable impact monitoring devices, neurocognitive assessment tools, wireless communications, and cloud data analytics to deliver the complete continuum of care in concussion management that athletic, medical, military, and industrial markets are now demanding in order to reduce the incidence, risks, and costs of head impacts and concussion injuries. X2 has offices in Redwood City, CA, and Seattle, WA.



http://www.x2biosystems.com

Contact: Michael Rosenberg

VP Marketing, X2 Biosystems

(831) 818-2758

michaelr@x2bio.com 





(1)



-   "Early Results of a Helmetless-Tackling Intervention to Decrease Head Impacts in Football Players", Swartz et al, Journal of Athletic Training, Volume 51, Issue 1, Jan 2016 doi: 10.4085/1062-6050-51.1.06



-    "A Biosensing Approach for Detecting and Managing Head Injuries in American Football", Morrison et al., Journal of Biosensors & Bioelectronics, Volume 6, Issue 4, Nov 2015 doi: 10.4172/2155-6210.1000189



-    "Practice Type Effects on Head Impact in Collegiate Football", Reynolds et al., Journal of Neurosurgery, August 4, 2015 doi: 10.3171/2015.5.JNS15573



-     "DATALYS Center / USA Football Study to Determine Effectiveness of HEADS UP FOOTBALL(R) Program", Dompier et al, February 2015 http://usafootball.com/sites/default/files/datalys_center_study_methods.pdf





(2) See study publications:



-     "Advances in neuro-trauma dosimeters for monitoring cumulative brain damage due to repetitive head impacts", Ralston et al., Proc 13th Annual SBMT Congress, April 8-10, 2016



-     "The Role of Medical Imaging in the Recharacterization of Mild Traumatic Brain Injury Using Youth Sports as a Laboratory", Talavage et al., Front. Neurol. 6:273, Jan 2016



-     "Cerebrovascular reactivity changes in asymptomatic female athletes attributable to high school soccer participation", Svaldi et al, Brain Imaging and Behavior, 9:4 Dec 2015



-     "Collegiate women's soccer players suffer greater cumulative head impacts than their high school counterparts", McCuen et al, J. of Biomechanics 48, 3729-3732, 2015



Web Site: http://www.x2biosystems.com

More from Laboratory and Research Supplies and Equipment