HDTV Lenses have 19x zoom, 16-bit encoders, 2.2X extenders.
Press Release Summary: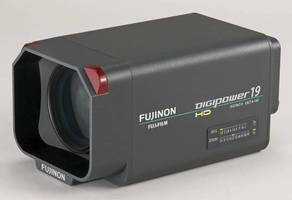 Designed for precision performance, HA19x7.4BERM/BERD 2/3 in. Premier Series high-performance HD ENG/EFP production lens and XA19x7.4BESM-D8 compact, HDTV studio and field box-style lens feature EBC coating for optimal color richness, blue response, and transmittance. Also, 3 floating zoom groups and Aspherics combine to optimize optical performance. Mini-box lens offers automatic compensation of focus breathing, and 3.3 kg ENG/EFP lens is offered with manual or servo focus and zoom.
---
Original Press Release:

Optical Devices Division of Fujifilm to Debut Two Breakthrough HDTV Lenses at Nab 2012



U.S. Debut of HA19x7.4BERM Premier ENG/EFP and XA19x7.4BESM-D8 Studio/Field Lens

Wayne, N.J. - FUJIFILM North America Corporation, Optical Devices Division has announced that two compact HD lenses, each featuring technical firsts in their size, will make their U.S. debut in Booth C7525 at the 2012 NAB show, which runs from April 14th-19th in the Las Vegas Convention Center. The two new HDTV lenses, which expand their respective product lines, are the HA19x7.4BERM/BERD 2/3-inch Premier Series high-performance HD ENG/EFP production lens and the XA19x7.4BESM-D8 compact, HDTV studio and field box-style lens.

First introduced at IBC 2011, the two lenses both with 19x zoom ratios, are the first in such a compact size to feature three floating zoom groups and Aspherics, which combine to produce unsurpassed optical performance. They also feature the latest EBC coating, resulting in richer colors and improved blue response and transmittance.

The XA19x mini-box lens offers automatic compensation of focus breathing. This mechanism synchronizes the zoom movement to the focus movement, enabling the image size to remain constant when focusing - a must in episodic production.

"The advanced features we've built into these lenses are extremely important in the HDTV/big screen era as television viewers can see much more picture detail-including information in the corners of the screen-than ever before," explained Thom Calabro, Director, Marketing and Product Development, FUJIFILM North America Corporation, Optical Devices Division.

"For this reason, it's vital to have consistent resolution from edge to edge," Calabro added. "These two new lenses expand our product portfolio with capability and superb optical performance that is ideal for high-end HDTV production. With 16-bit encoders and 2.2X extenders as standard features, these new 19X lenses ensure precision performance even in the most demanding HD production applications."

Weighing only 3.3kg, the lightweight HA19x7.4BERM/BERD 2/3-inch lens is ideally suited to the rigors of high-end ENG/EFP HDTV production, including entertainment, news, sports, and documentaries. A new ergonomic grip reduces operator fatigue, and the lens can be ordered with manual or servo focus and zoom.

The XA 19x7.4BESM-D8 is ideally suited to live studio production, such as live news, sports, and entertainment. With features like RS-232 control and tally lights, it can also be used in conjunction with virtual reality studio sets and robotic camera systems. Both the XA19x7.4BESM-D8 and HA19x7.4BERM/BERD lenses have advanced diagnostics to keep them working reliably, as well as a short "MOD" or minimum object distance of 0.55mm, which allows shooting at closer distances.

With the 2.2X extender as standard, both lenses give users zoom capabilities and reach comparable to that of FUJINON HA23X lenses. Their inherent advanced optics also compensate for aberrations throughout the entire zoom range, with dramatic reduction in geometric distortion on the wide side of the focal range for superior optical performance.

About Fujifilm
FUJIFILM North America Corporation, a marketing subsidiary of FUJIFILM Holdings America Corporation consists of five operating divisions and one subsidiary company. The Imaging Division sells consumer and commercial photographic products and services including film, one-time-use cameras, online photo services and fulfillment, digital printing equipment and service. The Electronic Imaging Division markets consumer digital cameras. The Motion Picture Division provides motion picture film, and the Graphic Systems Division supplies products and services to the printing industry. The Optical Devices Division provides binoculars, and optical lenses for closed circuit television, videography, cinematography, broadcast and industrial markets. FUJIFILM Canada Inc. markets a range of Fujifilm products and services. For more information, please visit www.fujifilm.com/northamerica, or go to www.twitter.com/fujifilmus to follow Fujifilm on Twitter. To receive news and information direct from Fujifilm via RSS, subscribe at http://www.fujifilmusa.com/rss.

FUJIFILM Holdings Corporation, Tokyo, Japan, brings continuous innovation and leading-edge products to a broad spectrum of industries, including electronic imaging, digital printing equipment, medical systems, life sciences, graphic arts, flat panel display materials and office products, based on a vast portfolio of digital, optical, fine chemical and thin film coating technologies. The company was among the top 16 companies around the world granted U.S. patents in 2010, and in the year ended March 31, 2011, had global revenues of $25.8 billion*. Fujifilm is committed to environmental stewardship and good corporate citizenship. For more information, please visit www.fujifilmholdings.com.

* At an exchange rate of 86 yen to the dollar.

All product and company names herein may be trademarks of their registered owners.

www.pipecomm.com
News/Blog: www.pipelinecomm.wordpress.com
Follow: http://www.twitter.com/pipecomm
Google Profile: http://www.google.com/profiles/robinhoffman7


More from Mechanical Components and Assemblies