HDTV Balun with Data and IR + Audio Baluns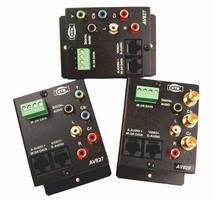 "5-in-1" What does that mean?
The ETS AV820 Series, High Definition Component Video + Digital Audio + Analog Stereo Audio + IR or Data Pass-Through baluns were designed for high-end home and professional theaters. These baluns are popular due to their ease of use and consistent labeling in those applications utilizing component video signals.
Why "5-in-1"? Five different signals (analog and digital audio, HD component, composite video and IR or Data Pass-Through) are combined in a single rugged metal box that is wall-mountable. The units are passive, therefore no extra power supply is needed.
Superior signal balancing ensures there is no ghosting, along with a lower ingress. Regular UTP can be used that enables signal transmission distances of up to 500 feet, yielding a video resolution of 480p to 1080p.
In short, these rugged and compact baluns offer a choice of signal combinations, combined with worry-free convenience. They meet FCC Class A regulations and provide low-cost solutions.
To name a few, our many customers include installers and audio-video distributors for broadcast studios, home theaters, schools, healthcare facilities and facilities with conference rooms.
Only Neutrik connectors are used in ETS products.
Visit! Energy Transformation Systems, Inc. Website: http://www.etslan.com
About ETS - Woman Owned Small Business
Fremont, CA - Since 1967, beginning with custom-made transformers and continuing since 1981 as innovators of balun, hub, adapter and splitter technology, ETS provides a wide range of media conversion solutions for audio, data and video for analog or digital installations over structured wiring systems. ETS provides you solutions with 100% guaranteed USA-Made products.
ENERGY TRANSFORMATION SYSTEMS, INC.
T: 800-752-8208,510-656-2012
F: 510-656-2026
Sales Contact:
Name: Joe Rosenberger,
VP Marketing & Sales
Mail address: jrosenberger@etslan.com
More from Electrical Equipment & Systems