HDMI to Ethernet Extender is designed for 1,080P HD video.
Press Release Summary: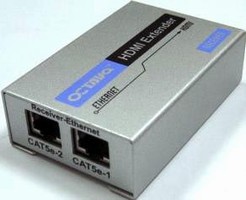 HDMI to Ethernet Extender enables transmission of 1,080P HD HDMI digital video and audio over pair of standard Ethernet CAT 5/6 cables. It includes set of HDMI transmitter and receiver which has external power supply that does not require power from HD source. HDMI Ethernet converter features Active Drive and Compensation circuitry that ensures error free video transmission, and typical connection lengths of 300 ft (1,080i) and 150 ft (1,080p).
---
Original Press Release:

Octava-HDMI over Ethernet Convert for 1080P HD Video



July 5, 2008

Norcross, Ga. - Octava Inc., specialists in HDMI distribution equipment, announced the release of a HDMI to Ethernet Extender. The HDMI Ethernet converter enables transmission of 1080P HD HDMI digital video and audio over a pair of standard Ethernet CAT5/6 cables.

The HDMI Extender includes a set of HDMI Transmitter and a HDMI Receiver and allows transmission of 1080P HD over 150ft over Ethernet cables. CAT 6 cable is recommended for 1080P and best performance The HDMI over Ethernet Transceiver allows installers to use standard CAT 5/ 6 cables for ease of installation. Ethernet cables and connectors are easily field terminated thus allowing installers to easily install the proper length cable needed for ultimate flexibility and eliminate logistics problems of having custom length HDMI cables. Simply connect HDMI source to the HDMI-Ethernet Transmitter and connect 2 Ethernet cables to the HDMI-Ethernet Receiver unit. HDMI-Ethernet RX should be placed near the HDTV.

A pair of Ethernet cables is required to carry the video / audio as well as HDCP data.
Active Drive and Compensation circuitry ensures error free video transmission for the ultimate HD experience. Typical connection lengths are:300 ft ( 1080i), 150ft (1080p). Both the receiver and transmitter include an external power supply to ensure best quality performance and does not require power from the HD source.

HDMI is the latest standard for distributing High Definition Digital Video and Audio in high def displays for 2 reasons:
1) uncompressed digital format ensures the best picture quality and
2) HDMI allows content providers to ensure that their intellectual property is protected through HDCP.

Product info available at: www.octavainc.com

Company Name: Octava Inc.
Address 1: 7076 Peactree Industrial Blvd
Address 2: Suite 100
City: Norcross
State: GA
Zip: 30071
Country: USA
Phone: 770-825-0388
URL: www.octavainc.com

Contact Name: Jeffrey Su
Title: Product Manager
E-mail: info@octavainc.com

More from Cleaning Products & Equipment