HDMI Switches accommodate up to 5 sources.
Press Release Summary: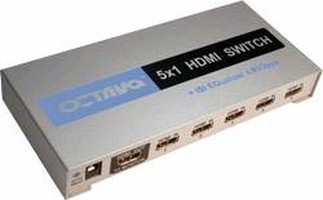 Engineered for minimum skew and clean transmission, 3 x 1 HDMI Switch allows users to connect up to 3 HDMI sources and share it with 1 HD monitor or projector, while 5 x 1 HDMI Switch suits users who intend to add more sources in future. Clear Eye technology optimizes signal quality over HDMI cables, while Smart Scan auto-detection intelligently and automatically selects desired HDMI source. Both switches can be connected to DVI-D by using DVI-D to HDMI cable or adapter.
---
Original Press Release:

HDMI Switches for HD Expandability



July 17, 2006. Norcross, Ga. Octava Inc., specialists in HDMI solutions, announced the release of its latest generation HDMI products for High Definition home theater use.

HDMI will continue to be the de-facto standard in home video transmission for 2 reasons: 1) uncompressed digital format ensures the best picture quality and 2) HDMI allows content providers to ensure that their intellectual property is protected through HDCP.

"It is clear that more equipment such as Cable/Satellite Set Top boxes, DVD players, HD DVD players, Personal video recorders, video game stations, and computer video cards will adopt HDMI/DVI. However, many early-generation HDTV monitors only had 1 or 2 HDMI input leaving the early adopter no way to easily add HDMI enabled sources. Furthermore many Surround Sound Audio Receivers do not include HDMI switching. Octava's HDMI switching solution was designed to allow end users to add HDMI sources and at the same time upgrade their existing Surround Sound Audio Receiver with HDMI switching capabilities. This allows the end user to fully experience the benefits of HDMI."

Octava's latest HDMI switch solution include a 3x1 and 5x1 HDMI switch. The 3x1 HDMI switch allows the user to connect up to 3 HDMI sources and share it with 1 HD monitor or projector. The 5x1 HDMI switch are for "power users" who intend to add in more sources in the future.

The Octava HDMI switch has been meticulously engineered for superior impedance matching, minimum skew and clean transmission. All switches are HDCP compatible and are transparent to the HDCP process ensuring compatibility. Furthermore, Clear Eye technology has been employed to correct and improve signal quality over HDMI cables.
In addition, Octava HDMI switch incorporate Smart Scan auto-detection, which intelligently and automatically select the desired HDMI source allowing for the ultimate user friendliness. Smart Scan simplifies the user experience by minimizing dependence on additional remote controls. A further benefit of Smart Scan is that the HDMI switch may be placed behind the equipment cabinet and be controlled without an additional IR extender.

For those seeking to integrate with their existing Surround Sound Audio Receivers, a HDMI 4 port switch with TOSLINK routing is also available. This unit includes both HDMI and Digital Audio switching thus allowing users to simplify their routing needs.

All products can be connected to DVI-D also simply by using a DVI-D to HDMI cable or adapter.

About Octava Inc.
Octava is a leading specialist in Digital Video distribution equipment located in Norcross, Ga.

Company Name: Octava Inc.
Address 1: 7076 Peachtree Industrial Blvd.
Address 2: Suite 100
City: Norcross
State: GA
Zip: 30071
Phone: 770-825-0388
URL: www.octavainc.com

Contact Name: Jeffrey Su
Organization: Octava Inc.
Title: Product Manager
E-mail: info@octavainc.com

More from Electronic Components & Devices