HDMI Connector delivers HD content from mobile device to TV.
Press Release Summary: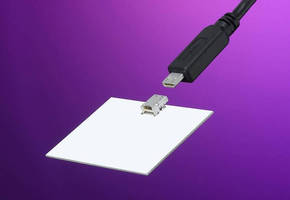 HDMI Type D connector is 19-pin D-Subminiature unit that meets electrical and mechanical specifications of HDMI Specification 1.4. Designed for mobile phone manufacturers, PCB receptacle connector allows mobile device users to display HD video, photos, and other content from devices onto full-size flat panel TV screens.
---
Original Press Release:

Molex Introduces the Next Generation HDMI Type D (Micro) Connector



Molex continues to lead as the first industry supplier to manufacture the world's smallest I/O connector; allows customers to exceed high definition consumer demand

LISLE, Ill, June 9, 2009 - Molex Incorporated (NASDAQ: MOLX and MOLXA) announced today that it has introduced the next generation HDMI Type D (Micro) connector, which was recently announced by the HDMI Licensing Committee, to meet the digital interface requirements of consumer electronic products. The HDMI Type D (Micro) connector is the industry's first miniaturized connector solution for delivering high definition video and images from mobile devices to flat panel screens. The connector, which meets all the electrical and mechanical specifications of the just released HDMI Specification 1.4, will provide significant benefits to the digital still camera and mobile device markets.

The HDMI Type D connector standard was developed by the HDMI Consortium. As an integral part of this team for the HDMI Type D concept, Molex was responsible for proposing the connector design and connector specification.

"The new HDMI Type D Micro Connector is designed to meet the needs of portable devices by providing these products with a fully functioning, smaller 19-pin connector. We are pleased to see companies like Molex leading the way by providing the market with these new, innovative HDMI solutions," says Steve Venuti, president of HDMI Licensing, LLC.

The new Type D (Micro) connector is about half the size of the current Type C (Mini) HDMI connector on the market today. Despite its smaller size, the new Type D version delivers equivalent mechanical strength and electrical characteristics. Mobile phone and consumer customers have expressed strong interest in this new technology that will enable users to display higher definition video, photos and other content from their mobile devices onto full-size flat panel TV screens.

"In addition to our recent Emmy® Award win for the HDMI Type A connector, our next generation Type D connector is further evidence of Molex's leadership in innovative I/O technology development," said Scott Sommers, group manager, new product development, Molex Incorporated. "Molex continues to drive market innovation with the world's smallest I/O connector, providing consumers with higher definition video and images."

Molex's HDMI Type D (Micro) PCB receptacle connectors, cable plug kits and complete cable assemblies will be available in summer 2009. For more information please visit www.molex.com/product/io/hdmi.html.

About Molex Incorporated

Molex Incorporated is a 70-year-old global manufacturer of electronic, electrical and fiber optic interconnection systems. Based in Lisle, Illinois, USA, the company operates 45 manufacturing locations in 17 countries. The Molex website is www.molex.com.

More from Packaging Products & Equipment