HD-SDI Video Splitters have passive design.
Press Release Summary: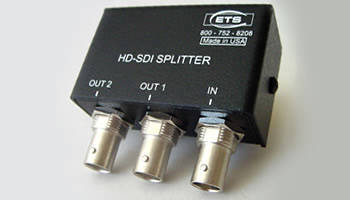 Supporting all standard serial digital video data rates up to 1.485 Gbps, HD-SDI PV991 is suited for use in home theaters, worship centers, retail floors, classrooms, meeting rooms, conference centers, and museums. To support future expansion and split video signals for greater distances and higher speed, 3 GHz SDI Splitter(PV992) splits SMPTE video signals into 2 full-quality broadcast video signals and sends them to video monitors or other digital devices over RG6 or RG59U coax cable.
---
Original Press Release:
Passive HD-SDI Splitters
Passive and popular, these splitters...

The ETS HD-SDI Splitter Series (PV991 and PV992) are passive, versatile and easy-to-use video splitters designed for studios, multiple displays, stage monitoring, and TV stations, to mention a few usages. Recently, we learned the State of GA Sheriff's Office is using the PV991 in its helicopter fleet in law enforcement and natural disaster response, such as monitoring the flooding and carnage due to Hurricane Matthew.

The HD-SDI PV991 supports all standard serial digital video data rates up to 1.485 Gb/s. This unit is popular for use in home theaters, worship centers, retail floors, classrooms, meeting rooms, conference centers and museums. Installers and video technicians find this device convenient,  easy-to-use, and dependable.

If your needs are likely to expand, pay just a bit more and ensure your future ability to split your video signals for greater distances and higher speed, by purchasing the  3 GHz SDI Splitter(PV992) which is also a passive design. It was designed to split SMPTE video signals into two full-quality broadcast video signals and send them to video monitors or other digital devices over RG6 or RG59U coax cable. Distance will vary for both units depending on the  cable quality, signal source, and display equipment used in the system.

You have a choice of individual splitters or use of a rack mountable panel (PV993) that is 2RU high and holds up to 16 splitters. All are USA-Made and 100% tested.

Visit our website!
Energy Transformation Systems, Inc.

About ETS - Woman Owned Small Business
Since 1967, ETS began with custom-made transformers and in 1981 continued as innovators of balun, hub, adapter and splitter technology. ETS has provided media conversion solutions for analog or digital audio, analog or digital video, sending and receiving signals over Cat 5e, 6 or 6a UTP or STP. ETS also provides solutions with "made in the USA" custom designed products.

ETS 
(T) 800-752-8208 | 510-656-2012 | (F) 510-656-2026
sales@etslan.com | www.etslan.com
More from Mechanical Power Transmission