HCT2-200 Digital Hot Air Pencil features 200 watt ceramic heater.
Press Release Summary: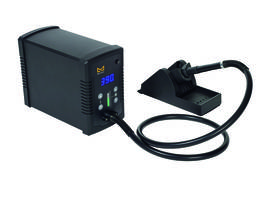 HCT2-200 Digital Hot Air Pencil is equipped with dual stage air pump, a replaceable hand-piece and optional bent nozzles. Unit comes with an arrangement of nozzle sizes and is suitable for small surface mount component and package sizes. This hand-held product provides improved thermal performance and can be used under a microscope.
---
Original Press Release:
Metcal Introduces Digital Hot Air Pencil for Light Rework Applications
Metcal today announced the introduction of its new HCT2-200 Digital Hot Air Pencil. The HCT2-200 is the latest addition to Metcal's line of convection rework tools. This digital handheld convection tool is designed for use in light rework applications that use smaller components and integrated circuits.
As component miniaturization continues (e.g. 01005 components), the ergonomics of a pencil become more important to allow a user freedom to access and rework components on the board without affecting adjacent parts. Larger handheld convection systems commonly reflow and dislodge adjacent components due to a higher minimum airflow. The HCT2-200 was developed for very small surface mount component and package sizes (1206s and smaller) and low board densities.
The HCT2 series of Digital Hot Air Pencils have always included an array of nozzle sizes for precision control. The HCT2-200's improved thermal performance allows the user to target a larger variety of components. Metcal has made working under a microscope easier with the optional bent nozzles. New features include a 200-Watt ceramic heater and dual stage air pump, a new replaceable hand-piece, and optional bent nozzles for easier access and use under a microscope. For more information, go to www.metcal.com/hct2.
For more information about any of Metcal's electronics assembly bench tool solutions, visit metcal.com.
About Metcal
Metcal is a benchtop solutions expert that has delivered broad value to customers since its Silicon Valley beginnings in 1982. Offering unrivalled performance, risk mitigation, and ROI, we give electronics manufacturers in automotive, aerospace, medical devices and military sectors the tools - and the confidence - they need to develop faster, safer, more advanced products. Metcal provides advanced technology products across hand soldering, convection rework, fume extraction, and fluid dispensing applications. For more information, visit metcal.com.
More from Software