Gas and Chemical Sensors / Detectors
HazMat Test Kit is designed for First Responders.
Press Release Summary: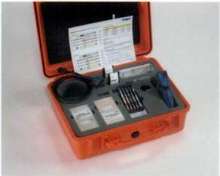 Safety HazMat Simultest Kit identifies and quantifies wide range of toxic industrial chemicals in less than 5 min. Three simultaneous test sets measure 15 commonly found organic and inorganic chemicals and/or chemical families. Kit includes accuro pump, 10 simultaneous test sets, test set adapter, tube openers, laminated instruction sheets, and air current kit together in rugged case.
---
Original Press Release:
Draeger Safety, Inc. Hazmat Simultest Kit for First Responders

September 5, 2004 - - Pittsburgh, PA - - Designed primarily for the municipal fire service and other emergency responders, the Draeger Safety HazMat Simultest Kit quickly identifies and quantifies a wide range of Toxic Industrial Chemicals (TICs) in less than 5 minutes using the Draeger Simultaneous Test Sets. The HazMat Simultest Kit includes three Simultaneous Test Set Kits for measuring 15 commonly found Organic and Inorganic chemicals and/or chemical families. Broad scale measurement and identification are made easy to use with only three simple sets. Simultaneous Test Set I measures for Inorganic Gases, Simultaneous Test Set II measures a different set of Inorganic Gases and Simultaneous Test Set III measures Organic Vapors.

The HazMat Simultest Kit comes complete with an accuro Pump, 10 Simultaneous Test Sets, Test Set Adapter and Tube Openers, full color laminated instruction sheets, and an Air Current Kit together in a rugged Pelican case.

Gases Measured:
Acid Gases, Basic Gases, Carbon Monoxide, Hydrocyanic Acid, Nitrous Gases, Carbon Dioxide, Chlorine, Hydrogen Sulfide, Phosgene, Sulfur Dioxide, Aliphatics, Aromatics, Petroleum Hydrocarbons, Ketones and Chlorinated Hydrocarbons

Draeger Safety, Inc.

101 Technology Drive

Pittsburgh, PA 15275-1057

Tel (412) 787-8383

Fax (41 2) 787-2207

www.draeger-safety.com

More from Architectural & Civil Engineering Products