Hazlux® 5 HID Lighting Fixtures Designed for Safe Operation in Hazardous Environments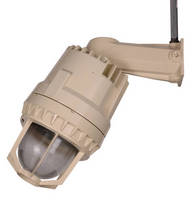 Thomas & Betts Product Certified for Outdoor Wet and Marine Locations

MEMPHIS, Tenn. - Hazlux® 5 HID Lighting Fixtures from Thomas & Betts allow for safe installation in a wide variety of areas that require explosion-proof operation. Hazlux® 5 HID Lighting Fixtures feature thermal- and shock-resistant glass globes that are factory assembled and pre-tested for quality and safety. They are certified as UL844 Listed for Class I, Division 1, Groups C, D Hazardous Locations. The factory-sealed assembly meets code requirements without the need for external sealing fittings.

Additional certifications include UL844 Paint Spray (up to 100 watts) and Class II, Division 1, Groups E, F, G, Outdoor Wet Locations and UL 1598A Marine Locations making the Hazlux® 5 fixtures ideal for use in many outdoor, offshore, hose-down and coastal locations. The temperature range is 32 to 104 degrees Fahrenheit (minus 30 to 40 degrees Celsius).

Hazlux® 5 HID Lighting Fixtures feature dual pitch Acme threads which make assembly easier and faster than designs with standard V-cut threads and greatly reduce the risk of cross threading. Additionally, the ballast is pre-wired to the lower half of the electrical connection block, which enables the wireless connection of the ballast housing to the mounting module.

The die-cast aluminum guards are powder-epoxy coated for corrosion resistance, and feature keyhole slots for easy attachment to stainless steel screws.

Hazlux® 5 HID Lighting Fixtures are available with a choice of high-pressure sodium or metal halide lamps in wattages from 50W through 400W, and can be purchased in pendant, ceiling, wall, angle stanchion and bulkhead mounting options. Polymeric reflectors are available in standard dome and 30-degree angle versions.

For more information about Hazlux® 5 HID Lighting Fixtures, visit www.tnb.com/contractor/docs/hazlux.pdf or call (800) 816-7809.

Thomas & Betts Corporation (NYSE: TNB) is a global leader in the design, manufacture and marketing of essential components used to manage the connection, distribution, transmission and reliability of electrical power in industrial, construction and utility applications. With a portfolio of more than 200,000 products marketed under more than 45 premium brand names, Thomas & Betts products are found wherever electricity is used. With headquarters in Memphis, Tenn., Thomas & Betts reported revenues of $2 billion and had approximately 8,750 employees in 2010. For more information, please visit www.tnb.com.


More from Architectural & Civil Engineering Products