Have Data Sent Directly to Your PC with dataTaker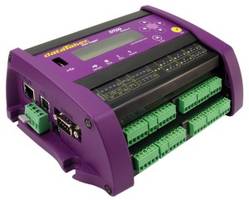 Flexible Solutions for Remote Data Collection
Data loggers have become the technology of choice to collect and transfer business-critical information such as product temperatures and process data. At CAS DataLoggers we work daily with callers searching for a system to handle remote data retrieval. For these applications we recommend the ideal solution-- dataTaker Series 3 loggers.
Standing out from the many products on the market, dataTaker is known worldwide for its measurement versatility and standalone ruggedness. At CAS DataLoggers we work regularly with all the dataTaker models we offer, and also provide sales, technical support, repair, and calibration services. Give our experienced Applications Specialists a call at (800) 956-4437 today!
Series 3 dataTaker Systems
Series 3 dataTaker dataloggers feature Universal input channels for use with a wide range of input signal types. Users are free to record: Temperature, Voltage, Current, 4-20mA Loops, Resistance, Bridges, Strain Gauges, Frequency, Digital, Serial, Calculated Measurements and more. These data recorders also offer powerful alarm and programming capabilities to take measurements and control actions on their own.
Choose from Several Models:
DT82EM Environmental Logger
Data Directly to Your Inbox
The dataTaker DT82EM is an ultra-low powered logger with an integral 2G/3G modem. Have your data emailed directly to your inbox or get an SMS alarm sent to your mobile phone. deTermined® communications ensures that your data gets through and nothing gets lost.
DT80M Modem Logger
For Remote Applications
The dataTaker DT80M is an ultra-low powered logger with integral 2G/3G modem designed specifically for remote applications. The next step up from the DT82EM, it has more analog inputs and Modbus master and slave capabilities.
DT85M High Channel Count
Expandable & Versatile
The DT85M has an integral modem, Modbus master and slave support and can accept up to 48 analog inputs as standard. Add CEM20 expansion modules and the DT85M can accept up to 960 sensors!
DT85GM Vibrating Wire Logger
For All Remote Geotechnical Projects
The DT85GM is the remote logger with everything! It has support for email and SMS, Modbus master and slave, and vibrating wire sensors. Up to 48 analog inputs are standard and expandable to up to 960 sensors.
CEM20 Channel Expansion Module
Increase Channel Count
DataTaker Channel Expansion Modules (CEM20s) extend the channel capacity of the DT80 range of data loggers. A dataTaker CEM20 connects to one analog channel of the dataTaker data logger. Each CEM20 in turn connects 20 universal data logging channels.
Choose How You Want to Send Data:
Communications features:
RS232 with modem support
Ethernet
USB memory stick ports
Connect locally, remotely or over the Internet.
Built-In dataTaker dEX Software:
Datataker dEX datalogger software is an intuitive graphical interface that allows you to configure your data logger, view real-time data in mimics, trend charts or tables, and retrieve your historical data for analysis. FTP provides data to your office over the internet or mobile phone network, all without the need for polling or specific host software.
For more information on dataTaker Remote Dataloggers, or to find the ideal solution for your application-specific needs, contact a CAS DataLoggers Application Specialist at (800) 956-4437 or visit our website at www.DataLoggerInc.com.
CAS DataLoggers
8437 Mayfield Rd.
Chesterland, OH 44026
Phone: 440-729-2570
Contact:
Stew Thompson
Marketing Specialist
Email: sthompson@dataloggerinc.com
More from Architectural & Civil Engineering Products