Harwin Presents New M225 Connector Series That Can Withstand 10G Vibrational Force
Press Release Summary: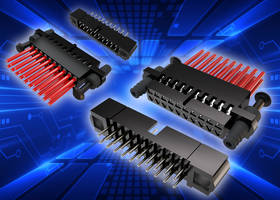 New M225 Cable-to-Board Connector Series are offered with glass-reinforced poly-phenylene sulphide enclosures that feature a minimum insulation resistance of 100 MΩ. The connector's tin-plated copper alloy male contact features a current rating of 3.3 A and maximum contact resistance of 25 mΩ. The units come with rapid mate-before-lock retention system, which increases holding force and assist with vibration resilience. They can be operated in -55°C to +125°C temperature range and provide a lifespan of 50 mating cycles.
---
Original Press Release:
Elevated Performance 2 mm Pitch Industrial Connectors Equipped to Take on Heavy Vibrations & Shocks
Crimp contacts supplied in a carrier strip format to facilitate high volume automated assembly processes
Portsmouth, UK, 17 October 2018 – Capable of withstanding a 10G vibrational force for a period of 6 hours, the components in Harwin's new M225 connector series are intended for industrial  deployment.
These compact, high performance cable-to-board units feature a robust construction for prolonged operational lifespan, thanks to their glass-reinforced poly-phenylene sulphide (PPS) enclosures, with a 100MΩ minimum insulation resistance ensuring continued signal integrity. They have a double row contact arrangement with a 2mm pitch – enabling mating of their through-board PCB male connectors to the corresponding female crimp connectors – with an array of different wire sizes (from 22AWG to 28AWG) being accommodated. Each tin-plated copper alloy male contact has a current rating of 3.3A (3.0A when all contacts are electrically loaded simultaneously) and a maximum contact resistance of 25mΩ. When mated, the single-piece female contacts each have 3 surfaces touching the corresponding male pin. This means that reliable interconnection is maintained, even when placed in the most uncompromising of application settings and under extremely challenging working conditions.
A rapid mate-before-lock retention system has been developed to increase mated connector holding force, and assist with vibration resilience. The female connector is fitted with rubber retainers, and locking pins are supplied loose. These pins are pushed into the rear of the mated female connector, and subsequently expand the rubber retainers to grip onto the male connector.
There are shrouded contacts on both the male and female connector elements, thereby preventing damage, while polarized housings safeguard against the possibility of mis-mating. The female crimp contacts are available on reels (for high volume automated production) or loose (for prototyping purposes), with a hand crimp tool offered for low volume. An operational temperature range of -55°C to +125°C is covered and a 50 mating cycle lifespan supported. These components are aimed at factory automation and processing machinery, industrial drives, robotics, test/monitoring instrumentation, handheld test equipment and industrial automation controls.
About Harwin
Harwin is renowned worldwide for producing high reliability interconnect solutions that can deal with the most exacting of application demands - attending to the defense, aerospace, space, industrial, oil/gas and motorsport sectors. Over the course of the last 65 years, the company has continued to set new benchmarks in terms of innovation, automation and service, through ongoing investment in advanced equipment and the training of its staff. Harwin's team of highly skilled engineers have been responsible for developing an impressive array of 'must not fail' connector products that outperform the competition. These include the Gecko (1.25mm pitch), Datamate (2mm pitch), Mix-Tek (combined signal, power and coax) and high temperature M300 (3mm pitch) product lines. In addition, the company offers easy-to-implement EMI/RFI shielding solutions, a comprehensive portfolio PCB hardware (spacers, links, bridges, terminals, test points, etc.) and a broad range of industry standard connectors. All these products are available with short lead times via its extensive sales and distribution network. Harwin's global reach enables it to respond rapidly to customer needs, with sales offices and manufacturing facilities in the UK, the USA, Germany, France and Singapore. For more information, visit: www.harwin.com
For more details contact:
Ben Green – Head of New Business, Marketing & Communications, Harwin
Tel: +44 2392 314 532
Agency contact:
Rachel Sandeman – Account Director, Publitek
Tel: +44 2038 136 425
More from Architectural & Civil Engineering Products