HARVI Ultra 8X Milling Cutter from Kennametal Features a Unique BTF46 Connection
Press Release Summary: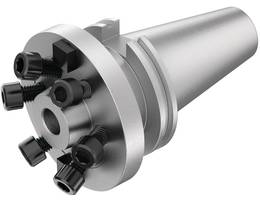 The HARVI™ Ultra 8X Milling Cutter is used for removing 20 cubic in. of Ti-6Al-4V per minute with 60 minutes of tool life for each cutting edge. The unit comes with double-sided positive rake insert that reduces the power consumption by 50 percent and lowers the cost per edge. It is constructed of high quality steel with BTF46 connection that provides maximum resistance to deflection.
---
Original Press Release:
Kennametal Invites You – Visit us at IMTS 2018 and Learn About the Latest News!
Carsten GROMOLL, Kennametal Senior Marketing Manager is pleased to invite you to one-on-one meetings at IMTS to discuss the company´s latest product innovations and enhancements. Kindly choose a topic (s) from the list below with the corresponding product manager and specify which time you are available.
-HARVI ULTRA 8X –Tim Marshall, Sr. Global Product Manager – Indexable Milling. The HARVI™ Ultra 8X, Kennametal's newest helical milling cutter, is able to to meet the demands of the aerospace industry that requires the highest metal removal rates possible but still achieving excellent tool life, as well as the needs of machine tool builders and users that are asking for tools able to withstand higher cutting speeds but generate lower machining forces. The HU8X was designed to predictably remove 20 cubic inches (328 cm3) of Ti-6Al-4V each minute while attaining 60 minutes of tool life per cutting edge. Kennametal combined a number of innovative technologies in this highly engineered cutting tool solution, such as a double-sided yet positive rake insert that delivers the lowest cost per edge possible and also reduces power consumption by up to 50 percent. The HU8X cutter body is constructed of a higher quality steel than competing solutions and features a unique BTF46 (bo lt taper flange) connection provides the ultimate in deflection resistance.

-Vibration-Free Boring Bars with Bolt-On Heads –Nick Gaten, Director Global Product Management – Turning Products. Kennametal's new boaring system boasts the most effective anti-chatter mechanism ever developed by the company and also offers an extensive range of indexable heads and shank sizes. One of the most innovative aspects of the new bar is that it's plug and play-no need whatsoever for tuning or adjustments. Simply pull it out of the package, mount it in the turret, and get boring. The vibration-free boring system is the most easy-to-apply bar to bore with, but also the most productive; it's serrated, bolt-on connection at the bar's business end securely clamps a variety of styles and sizes of indexable heads. In addition, the bars are both vibration and maintenance free due to it's cutting edge internal dampener. Test results show surface finishes as good or in most cases better than competitive "
Anna HARDALOUPAS
MEPAX
E-mail: a.hardaloupas@mepax.com
Tel: +34 666 057 614
More from Optics & Photonics