Harvesters/Feller Bunchers offer swing torque of 50,787 lb-ft.
Press Release Summary: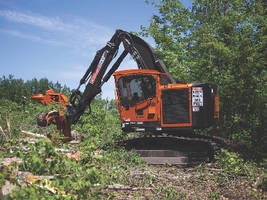 Driven by 225 hp Cummins QSB6.7 Tier 4 Final diesel engine with SCR aftertreatment, Models 240B and 260B are equipped with 36 in. diameter Flexxaire auto reversing fan that includes automatic temperature control. Model 240B, featuring D5 undercarriage with 26.2 in. ground clearance, offers max speed of 2.47 mph and max tractive effort of 65,833 lb-ft. Model 260B has wider D7A undercarriage with 8 in. chain pitch for added stability, and provides 65,481 lb-ft of tractive effort.
---
Original Press Release:

Barko "B" Series Harvesters/Feller Bunchers Bring New Upgrades to Purpose-Built Design



SUPERIOR, Wisc. — Featuring numerous enhancements from the original design, Barko's B-Series harvesters and feller bunchers offer exceptional productivity and efficiency. Purpose-built from the ground up, the machines incorporate extensive input from leading engineers, end users, and other forestry professionals.



The 240B and 260B machines are each driven by a 225-horsepower Cummins QSB6.7 Tier 4 Final diesel engine with SCR aftertreatment. Offering a peak torque increase of 10-percent from the previous models, the harvesters deliver superior productivity and fuel efficiency for reduced operating costs. The machines are also equipped with an extreme cooling engine package and a 36-inch-diameter Flexxaire auto reversing fan that includes automatic temperature control.



The D5 undercarriage on the 240B offers ground clearance of 26.2 inches, compact track width of 9 feet, 4 inches, and max travel speed of 2.47 mph. The 50,000-pound class unit delivers impressive maximum tractive effort of 65,833 foot-pounds, and drawbar pull of better than 1.3 to 1 ratio, to handle steep hills and rough terrain with ease.



The 260B features a wider D7A undercarriage with 8-inch chain pitch for added stability with larger attachments in the 60,000-pound class machine size. It maintains exceptional drawbar pull (1.13 to 1 ratio) and provides 65,481 foot-pounds of tractive effort. Ground clearance for the 260B is 29 inches. Options for both models include various track shoe sizes and five counterweights ranging from 1,000 to 5,500 pounds.



Dual swing motors provide continuous rotation and high swing torque of 50,787 foot-pounds for each model. The machines feature a heavy-duty, oversized swing bearing and offer outstanding reach with any attachment. Boom plumbing on both models has been enhanced.



Brute strength is complemented by responsive IQAN hydraulic controls, newly enhanced to provide even smoother operation. The system is specifically designed for Barko, featuring hydraulics tailored for both fixed and dangle head harvesters, and feller buncher applications. Customized within Barko's rigorous quality standards, IQAN provides infinite variable control for the hydraulic system. This includes programmable settings for different operators.



System information and machine diagnostics are conveyed on a convenient Parker IQAN-MD4 cab display. Additional improvements to the hydraulics include a new electric fill pump for the hydraulic tank and an improved internal hydraulic bypass for more consistent temperature in all weather conditions. A hydraulic tank vacuum pump is also standard.



The state-of-the-art operator's station provides optimum operator comfort and excellent visibility around the entire working area. Users can enhance visibility by adding an optional rearview camera with a 7-inch LED color display. Standard features of the climate-controlled cab include a large access door, exterior LED lighting, oversized skylight, sliding rear window, and a heated, air-ride seat.



The 240B and 260B each come with a 1.25-inch polycarbonate window for added safety on both harvesting and feller bunching jobs. An air knife system keeps the front and skylight windows clear of debris. Additionally, a redesigned intake system is now located completely beneath the shrouding to eliminate any chance of damage from falling limbs.



A patent-pending, forward-sliding design allows the cab to move out 36 inches for easier serviceability. Additionally, a large, hydraulically-opening gull wing door offers direct access to the engine and components. The gull wing, spanning nearly the full length of the machine, serves as a convenient working platform, complete with a slip-resistant walking surface. Exclusive to the industry, an on-board air compressor provides immediate work tool capability. Furthermore, the machine is designed with built-in tool storage areas under the cab and within the car body.



Both machines are designed to work with factory-approved harvesting and feller bunching heads from a variety of manufacturers, including Barko's own CF18 and CF22 fixed harvesting heads. Dual planetary gear rotate motors have been refined to facilitate efficient 360-degree continuous rotation of the attachment. For users who are more accustomed to pedal operation for rotating the head, a foot control option is available as an alternative to the standard handle button.



A high pressure hydraulic filter between the carrier and the attachment is now offered as an option to provide added protection for the attachment. Additional attachment options include a bar and chain grease system, and herbicide stump spray system.



Other attachments compatible with the Barko 240B and 260B include feller buncher heads from Quadco and Propac, and dangle heads manufactured by South Star and Log Max.



Barko Hydraulics, LLC is part of the Pettibone, LLC Heavy Equipment Group. Founded in 1963, Barko has consistently led the industry with innovative solutions to the forestry, scrap and construction markets, including industrial tractors, crawlers, handlers, loaders, forwarders, chippers and harvesters. For more information, call 715-395-6700 or visit www.barko.com.

More from Test & Measurement