HART CMOS Modem IC serves industrial communications applications.
Press Release Summary: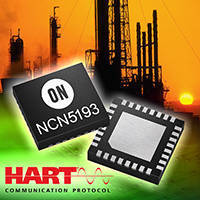 Supplied in 32-pin QFN package, NCN5193 complies with physical layer specifications set by HART standard while requiring minimal additional components. Single-chip device, operating from -40 to +85°C, supports Bell 202 shift frequencies from 1,200–2,200 Hz and can deliver 1,200 bps half-duplex data rate. Along with built-in power amplifier, 17-bit sigma-delta DAC, and watchdog mechanism, product has 3–5.5 V range and draws 190 µA in standby with system clock running (76 µA without clock).
---
Original Press Release:

ON Semiconductor Releases Highly Integrated, Low Power HART CMOS Modem IC for Industrial Communications



NCN5193 modem IC fully complies with physical layer specifications set by HART standard, while requiring only minimal additional components



PHOENIX, Ariz. — ON Semiconductor (Nasdaq: ONNN), driving energy efficiency innovations, has expanded its family of modems targeted at highway addressable remote transducer (HART) industrial communication implementations. With this latest product introduction, ON Semiconductor, who recently became a member of the HART foundation (www.hartcomm.org), now offers solutions for low power HART applications.



The new NCN5193 is a single-chip CMOS device which supports Bell 202 shift frequencies between 1200 hertz (Hz) and 2200 Hz and is capable of delivering a 1200 bit per second (bps) half-duplex data rate. With a built-in power amplifier, a 17-bit sigma-delta digital-to-analog converter (DAC) and an extremely responsive watchdog mechanism, it presents engineers with a very sophisticated HART solution, that is both cost-effective and space saving. It has a voltage range of 3 volt (V) to 5.5 V and draws only 190 microamps (µA) while in standby mode with the system clock running (76 µA with no clock). In order to keep its power budget to a minimum the receive circuitry is disabled during transmission phases and, likewise, the transmit circuitry is disabled when the IC is in the process of receiving.



The modem IC has an operational temperature range that spans from -40°C to +85°C, allowing it to be deployed in industrial environments. Thanks to the high level of integration offered by the NCN5193, only a small number of external component parts are required. The NCN5193GEVB evaluation board, which includes all external components necessary for operation, helps to ease the design of HART implementations using the NCN5193.



"We are delighted to now be featured as a member of the HART Foundation and are well positioned to contribute to the eco-system that is continuing to build up around the HART standard," said Ryan Cameron, vice president of Industrial and Timing Products at ON Semiconductor. "The NCN5193 underlines our on-going commitment to developing next generation slave and master devices which will facilitate further proliferation of HART based communication in the future. It ensures reliable performance in an application where communication interrupts can often lead to crippling operational cost penalties."



Packaging and Pricing

The NCN5193 is offered in a compact, Pb-free, 32-pin QFN package and priced at $2.31 USD per unit in 10,000 unit quantities.



About ON Semiconductor

ON Semiconductor (Nasdaq: ONNN) is driving energy efficient innovations, empowering customers to reduce global energy use. The company offers a comprehensive portfolio of energy efficient power and signal management, logic, discrete and custom solutions to help customers solve their unique design challenges in automotive, communications, computing, consumer, industrial, LED lighting, medical, military/aerospace and power supply applications. ON Semiconductor operates a responsive, reliable, world-class supply chain and quality program, and a network of manufacturing facilities, sales offices and design centers in key markets throughout North America, Europe, and the Asia Pacific regions. For more information, visit http://www.onsemi.com.



Follow @onsemi on Twitter.



ON Semiconductor and the ON Semiconductor logo are registered trademarks of Semiconductor Components Industries, LLC. All other brand and product names appearing in this document are registered trademarks or trademarks of their respective holders. Although the company references its Web site in this news release, such information on the Web site is not to be incorporated herein.



Contacts



Beth Johnston

Media Relations

ON Semiconductor

(208) 234-6738

Beth.Johnston@onsemi.com



Parag Agarwal

Senior Director Investor Relations

ON Semiconductor

(602) 244-3437

Parag.Agarwal@onsemi.com



Issued by:

Simon Krelle

Pinnacle Marketing Communications Ltd

Tel: (339) 368 6122

Email: s.krelle@pinnaclemarcom.com

Web: http://www.pinnacle-marketing.com