Harnesses utilize comfort-stretch webbing technology.
Press Release Summary: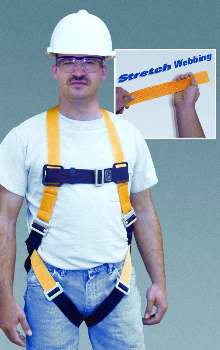 Titan T-FLEX(TM) Harnesses feature soft, fully-adjustable webbing for maneuverability and comfort. Sub-pelvic strap and back strap add support and provide safety in event of fall. Non-slip, adjustable chest strap adapts to user's size for proper fit, while lanyard ring and sliding D-ring/pad assure correct positioning. Contrasting color webbing on leg straps aids workers in correctly donning harness. Titan T-FLEX Harnesses meet OSHA, ANSI and CSA requirements.
---
Original Press Release:

New Titan T-FLEX(TM) Stretchable Harnesses Deliver Comfort and Value


Smithfield, R.I. - (September 8, 2003) - The patented, comfort-stretch webbing technology is now available with the new line of Titan-by-Miller T-FLEX(TM) Harnesses. The leading manufacturer of fall protection equipment, Bacou-Dalloz introduces this new line of stretchable harnesses that provide greater comfort at competitive prices.

"Since stretchable webbing provides added comfort and increased mobility, the new Titan T-FLEX Harness encourages users to wear their harness correctly, resulting in greater safety," said Shelly Mihalic, Product Manager for Miller Fall Protection. "With most fall protection products, workers are more likely to select and wear equipment that is more comfortable."

For example, the comfort-stretch webbing design on the T-FLEX Harness is patented and available only through the Miller brand and Bacou-Dalloz. With five models available, the Titan T-FLEX Harnesses feature soft, stretchable and fully-adjustable webbing that provides maximum maneuverability and ease-of-wear.

Standard features, including the sub-pelvic strap and back strap add support and provide increased safety in the event of a fall. Additionally, a non-slip, adjustable chest strap adapts to the user's size to ensure proper fit.

Titan T-FLEX harnesses include a lanyard ring and a sliding back D-ring/pad that assures correct positioning and added comfort. To aid workers in correctly donning the harness, T-FLEX harnesses feature contrasting color webbing on the leg straps.

Titan T-FLEX Harnesses meet all applicable OSHA, ANSI and CSA requirements.

The complete line of Titan products meet industry compliance requirements and include the consistent, quality workmanship that has become synonymous with the Miller brand name.

For more information on the new line of Titan-by-Miller T-FLEX Harnesses, contact your nearest Miller or Titan Distributor, or call Miller Customer Service, toll free at 800-873-5242, fax at 800-892-4078, or visit the Web site at www.bacou-dalloz.com.

Miller Fall Protection is a division of the Bacou-Dalloz(TM) group, the world leader in the design, manufacturing and sale of personal protection safety equipment with leading, premium brands such as Uvex®, Miller®, Howard Leight, Perfect Fit®, Willson® and Survivair®. Bacou-Dalloz provides unmatched head-to-toe protection through three core businesses: protection of the head, including respiratory, hearing and eye protection (gas detectors and respirators, earmuffs and ear plugs, safety eyewear and eyewash products); fall protection (harnesses, lanyards, lifelines and fall arrest systems); and body protection (gloves, clothes and shoes). The group supports a wide range of business segments including industrial, construction, telecommunications, medical, public services and, through its distributor partners, offers the most comprehensive choice of products to protect people from hazards in work environments or wherever they are at risk of injury.