Hardy Multi-Scale Controller Canadian Weights & Measures Certified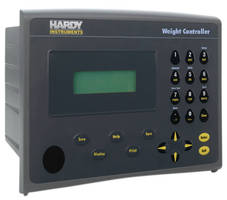 San Diego, CA - July 2009 - Hardy Instruments announces that its HI 3030 Multi-Scale Weight Controller is now Canadian Weights & Measures certified. Having this certification ensures the integrity and accuracy of weight measurement standards, measuring device installation and usage requirements in the Canadian marketplace.

The HI 3030 multi-scale weight controller can act as a front end to a PLC, PC or DCS for level, batching, filling/dispensing, and checkweighing applications, or as a stand alone for simple control or weight monitoring. As a bridge to a PLC, its four scales can share one network connection, whether it's DeviceNet, ControlNet, Ethernet/IP, Remote I/O, or Profibus. You can link additional HI 3030s with their multiple scales and share the same network connection.

The HI 3030 Weight Controller includes Hardy Instruments' core technologies:

o WAVERSAVER®, eliminates the effects of vibration providing a stable weight display.

o C2®, provides electronic calibration without the need for test weights.

o Secure Memory Module (SMM) allows manual transfer of configuration data to another instrument.

o INTEGRATED TECHNICIAN(TM) (IT) system diagnostics and troubleshooting techniques.

Hardy Instruments has been a leader in weighing solutions for over 90 years and is best known for its innovative approaches to precision weighing and process measurement. An ISO 9001-certified manufacturer, Hardy Instruments is based in San Diego, California. For more information about Hardy Instruments, please visit www.hardyinstruments.com or call 1-800-821-5831.


More from Materials