Hardware Modules increase machine reliability.
Press Release Summary: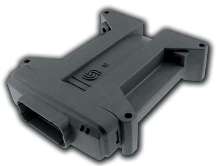 Plus 1(TM) hardware modules, based on TMS320F2810 and F2812 digital signal controllers, allow manufacturers of mobile equipment to design CAN based electronic control systems that provide closed-loop, real-time performance. Users can select from library of software objects and modular hardware to build system scaled to specific needs. Plus 1 suits equipment applications in fields such as material handling, forestry, agriculture, construction, road building and utility vehicles.
---
Original Press Release:

Sauer-Danfoss and Texas Instruments Bring Enhanced Flexibility, Performance and Control for OEM Mobile Machinery


TMS320F28x(TM) Controllers and Sauer-Danfoss' PLUS 1(TM) system help increase machine features and reliability while reducing running costs and design time of heavy equipment

AMES, IOWA, USA; - SAUER-DANFOSS INC. (NYSE: SHS; FSE: SAR) Allowing original equipment manufacturers (OEMs) to reduce design time while increasing system features and functionality, Sauer-Danfoss and Texas Instruments (TI) (NYSE:TXN) announce the availability of eight Plus 1 hardware modules based on TMS320F2810 and F2812 digital signal controllers. The F28x(TM) based modules let OEM designers tap into 150MIPS of TI's leading digital signal processing (DSP) technology to develop high performance control systems for machinery functions, such as transmissions, hydraulics and operator interfaces, with lower running costs and longer service lives, while enjoying the peripheral integration and ease-of-use typically found in a microcontroller (MCU) based system.

For more information about the F2810 and F2812 digital signal controllers, please visit www.ti.com/sauer-pr. For more information on PLUS 1 visit www.sauer-danfoss.com or contact Nadvertising@Sauer-Danfoss.com or call 515-956-5750.

In the competitive heavy equipment market, OEMs often turn to Controller Area Network (CAN) serial communications networks to meet their customers' ever-increasing standards in areas ranging from throughput based performance and operator safety to environmental regulations. As part of the extensive system of easy-to-use software tools, powerful programming environment, input/output (I/O) modules, graphical terminals and joysticks, software and hardware modules, the PLUS 1 systems allows manufacturers of mobile equipment to design CAN based electronic control systems that provide fast closed-loop, real-time performance with increased reliability.

Using the PLUS 1 system, design engineers can select from a library of software control objects and modular control hardware to build a system scaled to their specific needs.

TI's DSP-based F2810 and 2812 controllers provide eight of these PLUS 1 modules with an integrated processing core to control the system's transmissions, drive-trains and valve controls. Functionality also extends to controlling equipment, such as blades, grippers and buckets, as well as hydraulic and electronic control steering.

"We needed a cost effective controller that could offer enough performance to implement complex control systems in software. The F2810 and F2812 controllers provided us with 150MIPS to handle the most sophisticated algorithms while still over sampling analog inputs for increased precision at the same time - something we could not have achieved with most of the MCUs we considered," said Dan Ricklefs, Product Portfolio Manager, Sauer-Danfoss. "F28x answered our needs. The high level of integration reduces our development time and costs while giving our customers the scalability and flexibility to build modular control systems with the exact performance, service and operating functions they require."

By customizing electronic controls for systems in software, OEMs allow customers greater flexibility in the overall operation of their machinery. For example, designers can program industrial sweepers in different profiles, optimizing them to operate in a quiet mode during the morning hours and in a high-performance mode during the afternoon. Aside from this system noise level vs. performance profile, additional profiles for customization include fuel efficiency vs. performance profiles and drive train aggressiveness profiles. Because the design is done in software, operating parameters can be fine tuned for optimal machine performance.

Low Cost, High Performance Enables Advanced Features in a Variety of Control-Oriented Applications
F2810 and F2812 controllers' flexible system design was an immediate draw for Sauer-Danfoss. Plus 1 enables the development of a wide scope of control-oriented products, with equipment applications in fields such as material handling, forestry, agriculture, construction, road building and utility vehicles. The F28x controller's unique flexibility to control this range of design systems reduces board space and system cost, leading to simpler, more cost-effective designs. In addition, minimizing the number of different processors in the system lets the Sauer-Danfoss design teams focus on innovation and improvement, rather than on space constraints and issues stemming from design complexity.

TMS320C2000(TM) Digital Signal Controllers Ideal for Process Control
Based on TI's C/C++ efficient 32-bit TMS320C28x DSP core, F2810 and 2812 controllers integrate up to 128 Kilowords (Kw) of on-chip Flash memory for simple reprogramming during development and in-field software updates. Optimized event managers include pulse-width modulation (PWM) generators, programmable general-purpose timers and glueless capture encoder interfaces. The device also features an on-chip, 12-bit analog-to-digital converter (ADC) with capable throughput of 12.5 mega samples per second and dual sample-hold, providing fast response for tight control loops.

In addition, all C28x DSPs are supported by a unique IQ math library. This combination allows designers to port floating-point algorithms to a fixed-point processor in a matter of minutes - far surpassing the tedious and time consuming conversion of math algorithms in traditional fixed-point machines. Five different on-chip standard communication ports, including CAN, provide simple communication interfaces to hosts, test equipment, displays and other components or networks.

About Sauer-Danfoss
Sauer-Danfoss Inc. is a worldwide leader in the design, manufacture and sale of engineered electronic and hydraulic systems and components for use primarily in applications of mobile equipment. Sauer-Danfoss, with more than 7,500 employees worldwide and revenue of more than $1 billion, has sales, manufacturing and engineering capabilities in Europe, the Americas and the Asia-Pacific region. The Company's executive offices are located near Chicago in Lincolnshire, Illinois. More details online at www.sauer-danfoss.com.

About Texas Instruments
Texas Instruments Incorporated provides innovative DSP and analog technologies to meet our customers' real world signal processing requirements. In addition to Semiconductor, the company's businesses include Sensors & Controls, and Educational & Productivity Solutions. TI is headquartered in Dallas, Texas, and has manufacturing, design or sales operations in more than 25 countries. Texas Instruments is traded on the New York Stock Exchange under the symbol TXN. More information is located on the World Wide Web at www.ti.com.

Trademarks
All trademarks and registered trademarks are the property of their respective owners.

For further information please contact:

Dan Ricklefs
Product Portfolio Manager
Mobile Electronics
Sauer-Danfoss Inc.
Minneapolis, Minnesota
USA
Phone: 763-509-2072
Fax: 763-559-4126
dricklefs@sauer-danfoss.com

More from Materials