Hardware and Software System extends lifecycle of gas wells.
Press Release Summary: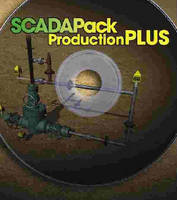 Designed to run in all SCADAPack 4203 gas flow computers and 300-Series controllers, SCADAPack ProductionPLUS combines Electronic Flow Measurement and plunger lift for 30+ wells per pad. Solution offers distributed intelligence and extensive data analysis, providing gas operators with wireless or wired Sensor-to-Enterprise application. Offering Windows-based PC environment, SCADAPack ProductionPLUS Manager allows operators to configure each well head, minimizing human error.
---
Original Press Release:

Distributed Intelligence and Extensive Data Analysis Are at the Heart of New Gas Well Production Optimization from Control Microsystems



SCADAPack ProductionPLUS is an integrated hardware and software solution designed to increase safety, improve environmental compliance, and extend the life cycle of the well.

Ottawa, Ontario, - Control Microsystems Inc. (CMI), a global developer of advanced SCADA solutions, today announced the release of SCADAPack ProductionPLUS, a pad-wide optimization solution combining EFM and plunger lift for 30+ wells per pad. SCADAPack ProductionPLUS leverages the functionality and flexibility of Control Microsystems' product suite to provide gas operators with an efficient wireless or wired Sensor to Enterprise application.

SCADAPack ProductionPLUS runs in all SCADAPack 4203 gas flow computers (GFC) and 300-Series controllers. Each is ideally suited to support Electronic Flow Measurement (EFM) and production optimization applications while performing control and monitoring tasks. When the 4203 is used at each well head, it provides a distributed intelligence architecture that addresses the downside of having a single point of failure in traditional pad-wide optimization. In addition, the powerful, built-in PLC allows the 4203 to generate and store over 4000 data records per meter run. The internal digital output can be used to control the sales valve.

The SCADAPack ProductionPLUS Manager is an intuitive, windows-based PC environment that allows operators to easily configure each well head, reducing the human error associated with traditional or legacy plunger lift systems. ProductionPLUS Manager has three operating modes to serve the life cycle of each well: manual mode, auto intermitter mode, and complete plunger lift control.

"As gas operators face downward pressure on margins and increasing environmental regulations, SCADAPack ProductionPLUS was designed to directly tackle these issues," says Dale Symington, VP Product Strategy. "Integration with our Accutech wireless instruments significantly reduces deployment costs while the product's environmental-centric features, including tank level monitoring and pad-wide shutdown, improve environmental compliance."

SCADAPack ProductionPLUS also improves safety in the field. Wireless sensors eliminate manual data gathering and reduce injuries, specifically with wellhead pressure during the flow-back period.

For more information, visit www.controlmicrosystems.com

About Control Microsystems

Control Microsystems is a global supplier of automation products for Supervisory Control and Data Acquisition (SCADA) systems, gas flow computers, wireless instrumentation, and industrial strength long-range wireless networks. Founded in 1980, Control Microsystems is the world's largest, privately held SCADA products company. Control Microsystems' products are engineered to operate in harsh, unattended environments delivering higher productivity and efficiency while reducing operational costs. For more information, visit www.controlmicrosystems.com

Media Contact

Maggie Archibald, Marketing Coordinator

Control Microsystems

48 Steacie Drive

Kanata, Ontario K2K 2A9 Canada

Direct Worldwide: (613) 591-1943

Toll Free within North America: (888) 267-2232

Email: [email protected]