Hardsurfacing Alloy suits high-impact/abrasion applications.
Press Release Summary: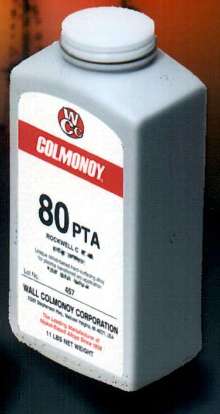 Developed for application with efficient PTA (Plasma Transferred Arc) deposition equipment, Colmonoy 80PTA is supplied as powder with uniform size distribution. Composite material contains high volume (60%) of abrasion resistant tungsten carbide particles (3500 DPH) in soft (HRC 30) impact-resistant nickel base matrix alloy. Tungsten carbide provides abrasion resistance while nickel matrix offers ductility and impact resistance.
---
Original Press Release:

Wall Colmonoy Introduces Colmonoy® 80PTA Hardsurfacing Alloy for Petrochemical, Mining and Other High-Impact and -Abrasion Applications


Madison Heights, Michigan - As a part of its application-specific product development initiative, Wall Colmonoy has released a new material specifically developed for demanding petrochemical, mining and aggregate processing applications where both impact and abrasion are constant problems.

Colmonoy 80PTA is a unique composite material containing a high volume (60%) of extremely abrasion resistant tungsten carbide particles (3500 DPH) in a soft (HRC 30) impact resistant nickel base matrix alloy. The tungsten carbide provides abrasion resistance while the nickel matrix has excellent ductility and impact resistance. The nickel alloy matrix and the tungsten carbide particles are uniquely matched so that a high volume percent of carbide grains are uniformly distributed throughout the matrix alloy.

Developed for application with highly efficient PTA (Plasma Transferred Arc) deposition equipment, the material is supplied as powder with a uniform size distribution for reliable PTA application.

Wall Colmonoy Corporation manufactures nickel-base hard-surfacing alloys and brazing filler metals, and operates five contract processing facilities across the U.S. and Europe. Headquartered in Madison Heights, Michigan, Wall Colmonoy has worldwide distribution and affiliates in Canada, the U.K. and France. To learn more about the company and its products and services, visit its website at www.wallcolmonoy.com.

Contact: Rick Hedden, Corporate Director, Marketing and Planning 30261 Stephenson Hwy., Madison Heights, Ml 48071-1650, USA
Tel: 248-585-6400 (ext. 233) Fax: 248-585-7960
Email: rhedden@wallcolmonoy.com


More from Printing & Duplicating Equipment