Rope / Cable / Wire Cutters and Cutting Machinery
Hard Wire Cutters have dual leaf springs for smooth operation.
Press Release Summary: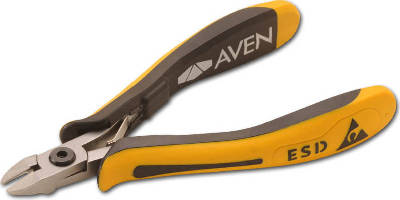 Measuring 5 in. long, Accu-Cut Hard Wire Cutters feature ergonomic handles with cushioned safety grips to avert ESD risk. Made from solid tungsten alloy steel rated 66-68 on Rockwell hardness scale, miniature Class W cutters have 7.1 mm heads in oval or tapered styles. Class T cutters, with solid tungsten carbide brazed into jaw, have 79-81 HRC ratings on cutting edges and are intended for thicker or harder wire. All can cut fine hard wire made from stainless steel, nickel, Nitinol or tungsten.
---
Original Press Release:

Premium Hard Wire Cutters Are Task-Tailored



Aven Accu-Cut Models Offer 'No Compromise' Choices

ANN ARBOR, MI - Six newly introduced hard wire cutters have varied head shapes and jaw styles to accommodate electronics, telecommunication, industrial and medical device applications.

The precision hand tools are manufactured in the United States by Aven, Inc. as part its Accu-Cut line of pliers and cutters. The half-dozen durable models are suited for meticulously shaping surgical stents, wire harnesses, aerospace cables and other metal leads.

"These professional-quality instruments let users match tools and tasks perfectly," says Michael Shahpurwala, president of Aven. "There's no need to compromise."

Each hard wire cutter has dual leaf springs for smooth, consistent operation and ergonomic handles designed in Germany for comfort. Cushioned safety grips help avert electrostatic discharge (ESD) risk. All have an overall length of 130 mm (five inches).

The smallest tips are on two miniature Class W cutters with 7.1mm heads in oval or tapered styles. Both tools are made from solid tungsten alloy steel rated 66 to 68 on the Rockwell hardness scale - tough enough for hundreds of thousands of cuts.

The other four models, with solid tungsten carbide brazed into the jaw, are intended for thicker and harder wire. These Class T cutters have 79 to 81 HRC ratings on cutting edges, which are available in semi-flush or flush choices. Jaw choices are oval, tapered or angulated mini. All can cut fine hard wire made from stainless steel, nickel, Nitinol or tungsten without nicking the tool.

Semi-flush edges have the longest life and produce a small pinch on the tip of snipped wire, thanks to an edge bevel. Flush cutters have a minimum bevel, yielding an even smaller pinch.

All six Accu-Cut products exceed the hardness levels of another major brand of cutters rated at 63-65 HRC.

In addition to industrial and technology applications, Aven's premium cutters are practical for jewelry design, stringed instrument work, model making and beading with memory wire.

"Our best-in-class tools meet the same standards of quality, reliability and value as Aven microscopes, video inspection systems, smart tweezers and other precision products," says Shahpurwala.

For more information or to receive a catalog, call Aven at (734) 973-0099. A digital catalog is at www.aveninc.com.

Aven, Inc. manufactures and globally distributes high-performance precision tools and optical systems for industrial, scientific, research and education applications. More than 750 products include video inspection systems, integrated portable microscopes, video borescopes, task lights, stainless steel tools for lab use and precision hand tools such as tweezers, pliers, cutters, screwdrivers, crimpers, knives and alignment tools. Brands include Mighty Scope, iLoupe, iVue, Accu-Cut and Athlet.
An electronics innovator since 1983, Aven is located in a high-tech corridor of Southeast Michigan and is the parent company of SharpVue, which designs and manufactures integrated digital microscope technology.

More from Fluid & Gas Flow Equipment