Hard Metal Turning Made Easy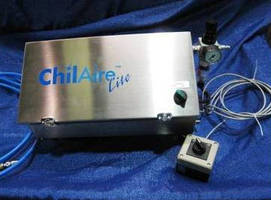 With ChilAire Lite(TM) CO2 Cooling, Lubrication and Chip Extraction hard metal turning is easy.

Turn carbides or titanium in a fraction of the normal time with higher feed rates, longer tool life and superior heat removal. And you will enjoy the benefits of no fluid waste, no staining and a better part finish.

The ChilAire Lite(TM) system features a Cleaning-Coolant Spray Generator/Controller, a Spray Applicator with Magnetic Flex-Mount, Custom spray-through cutting tools, an Interface Cable for Automatic machine Control (M-Codes) and is compact in size with a small footprint.

The portable unit can be moved between lathes for turning the toughest materials that you encounter.

The ChilAire Lite(TM) produces infinitely variable dry, near-dry, wet and near-cryogenic cooling-lubricating sprays using any lubricant additive. There will be less misting and smoking for cleaner, safer machining.

ChilAire Lite is the economical answer for the most challenging Diamond, Carbide,- Hard Steel, Inconel, Composite, Titanium, Nitinol, A-286, Graphite, Ceramic, MMC and CFRP turning operations.

Industry Depot supplies dependable productivity solutions to North American manufacturers, repair services and consultants. Since founded in 1999, we have been supplying high value productivity equipment, instrumentation and power tools that exceed expectations at competitive prices and quick deliveries. With over 25 years of general management experience in engineering, manufacturing and distributing industrial products, we understand and respect the market we serve.

More from Sensors, Monitors & Transducers