Hard Drive meets demands of scalable NVR surveillance systems.
Press Release Summary: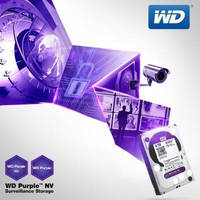 Comprised of 3.5 in. hard drives with 4 and 6 TB capacities to accommodate extended video retention for analysis and reference, WD Purple™ NV meets demands of scalable network video recorder (NVR) surveillance systems utilizing higher hard drive bay counts and greater numbers of attached cameras. AllFrame™ technology, when combined with ATA streaming support, helps reduce video footage loss with cache policy management technology to help improve data flow and playback.
---
Original Press Release:

WD® Scales up Surveillance-Class Hard Drive Line



New WD Purple(TM) NV 3.5-inch Drives Equipped for NVR Surveillance-system Environments



LAS VEGAS and IRVINE, Calif. -- ISC West (Booth #5109) -- WD®, a Western Digital (NASDAQ: WDC) company and storage industry leader, today introduced WD Purple(TM) NV, a purpose-built line of 3.5-inch, high-capacity 4 TB and 6 TB hard drives for the greater demands of scalable network video recorder (NVR) surveillance systems.



Compared with standard WD Purple drives, the new member of the WD's surveillance video recording family of drives, WD Purple NV, is designed for larger-scale network surveillance systems utilizing higher hard drive bay counts and greater numbers of attached cameras, which demand increased storage capacity and durability. The new drives' high capacities also enable long video retention periods for analysis and reference. WD Purple NV is also designed to withstand the demands of always-on digital NVR recording environments. It offers low power consumption and many advanced performance features typically reserved for higher end surveillance storage.



"The global video surveillance market is expanding with the increased accessibility to easy-to-use systems for small businesses and municipalities," said Matt Rutledge, senior vice president of HDD marketing at WD. "WD optimized the WD Purple NV line of hard drives for NVR digital surveillance systems to improve high-definition video playback for high-camera-count applications. NVR surveillance systems can produce incredible amounts of data which makes the WD Purple NV hard drives a perfect solution for NVR systems needing high quality recording and playback and high capacity storage."



Features



WD Purple NV hard drives are equipped with an array of exclusive WD technologies, including:



AllFrame(TM) - When combined with ATA streaming support, AllFrame(TM) technology helps to reduce video footage loss with a proprietary cache policy management technology to help improve data flow and playback. WD Purple includes exclusive firmware upgrades that protect against video pixilation and interruptions within a surveillance system.



Premium Protection - Designed with tarnish-resistant components, WD Purple NV offers premium protection in harsh environments where surveillance systems can be installed.



Support for High-Camera-Count Systems - WD Purple NV hard drives are optimized to support systems utilizing high numbers of high-definition surveillance cameras, giving you the flexibility to upgrade and expand your security system in the future. Higher storage capacities also allow you to store the surveillance footage for a longer period of time, especially in situations when every second counts[1.



Availability

WD Purple NV 6 TB surveillance hard drives are shipping immediately to customers for qualification and are covered by a three-year limited warranty. WD Purple NV 4 TB hard drives will be available for qualification later this quarter. Both the 6 TB and 4 TB capacities will be shipping in volume within the quarter. More information about WD's surveillance hard drives and limited warranty terms can be found on the company website at http://products.wd.com/wdpurple. WD Purple NV surveillance hard drives will also be showcased at ISC West (booth #5109) in Las Vegas, Nevada.



About WD

WD, a Western Digital company, is a long-time innovator and storage industry leader. As a storage technology pacesetter, the company produces reliable, high-performance hard disk drives and solid state drives. These drives are deployed by OEMs and integrators in desktop and mobile computers, enterprise computing systems, embedded systems and consumer electronics applications, as well as by the company in providing its own storage products. WD's leading storage devices and systems, networking products, media players and software solutions empower people around the world to easily save, store, protect, share and experience their content on multiple devices. WD was established in 1970 and is headquartered in Irvine, California. For more information, please visit the company's website at www.wd.com.



Western Digital Corp. (NASDAQ: WDC), Irvine, Calif., is a global provider of products and services that empower people to create, manage, experience and preserve digital content. Its companies design and manufacture storage devices, networking equipment and home entertainment products under the WD, HGST and G-Technology brands. Visit the Investor section of the company's website (www.westerndigital.com) to access a variety of financial and investor information.



Western Digital, WD, the WD logo are registered trademarks of Western Digital Technologies, Inc. in the U.S. and other countries; WD Purple is a trademark of Western Digital Technologies, Inc. in the U.S. and other countries. Other marks may be mentioned herein that belong to other companies. As used for storage capacity one gigabyte (GB) = 1 billion bytes, one terabyte (TB) = one trillion bytes. Total accessible capacity varies depending on operating environment. See support.wdc.com for limited warranty terms and conditions.



[1 The specific number of cameras that can be supported will be dependent on a number of criteria; types and capability of cameras installed (resolution, fps, additional features) and the system's hardware and software capability.



CONTACT:

Heather Skinner

WD Public Relations

949.672.7920

heather.skinner@wdc.com

or

Bob Blair

Western Digital Investor Relations

949.672.7834

robert.blair@wdc.com



More from Agricultural & Farming Products