Hard Drive incorporates external Serial ATA and USB 2.0.
Press Release Summary: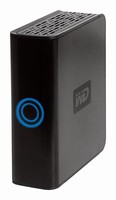 PC and Mac compatible, My Book Premium ES Edition includes EMC® Retrospect® Express HD v2.0 backup software which provides tools needed to back up and restore single file or entire system. SmartPower(TM) drive management system automatically powers device, while Safe Shutdown(TM) feature ensures data is saved before shutting down.
---
Original Press Release:

WD'S Newest 'My Book' Protects Consumers - and their Data - from Technology Obsolescence with eSATA Connection



My Book Premium ES Edition External Hard Drive Also Ensures Connectivity Today with USB 2.0

As consumers increasingly rely on digital media to secure their important documents and valuable personal content, they often fear that changes in technology may render their data inaccessible. Western Digital Corp. (NYSE: WDC), the leading consumer external storage brand worldwide, recently announced that its new My Book Premium ES Edition external hard drive incorporates eSATA (external Serial ATA) and USB 2.0. eSATA is a new technology that transfers data between the external device and the computer at higher rates than ever before and USB 2.0 is today's most common method of connecting external devices to personal computers.

eSATA uses the same new interface technology that is becoming the standard inside PCs. It is designed to connect peripherals such as external hard drives with the same data transfer speed as internal components. Use of eSATA by the computing and consumer electronics industries is increasing with the expectation that its superior performance will drive it to be the next standard interconnect for external devices, offering an obsolescence prevention plan for consumers.

Virtually all motherboards shipped today include the SATA interface for internal drives and many PCI cards are available to connect eSATA hard drives to PCs and Macs®. An increasing number of motherboard manufacturers are incorporating support for eSATA connector ports.

"Customers tell us that, while the digitization of photos, music and video greatly enhances their ability to collect, manage and share their personal content, they fear that the fast-moving evolution of technology could make it more difficult to access their content in years to come," said Jim Welsh, vice president and general manager of WD's Branded Products unit. "This content often is precious to consumers, and with USB 2.0 and eSATA, they can rest assured that their digital content today will be accessible using tomorrow's computers."

An increasing portion of consumers' content stored on their computers and storage devices is video and music. eSATA offers consumers superior performance for multimedia applications such as streaming music or movies, or video editing. The eSATA interface on My Book Premium ES Edition can move data to and from a PC or Mac as fast as 300 megabytes (MB) per second - much faster than USB 2.0, which has a standard transfer rate of about 60 MB/s (480 megabits per second).

PC and Mac compatible, My Book Premium ES Edition includes EMC® Retrospect® Express HD 2.0 backup software, which provides users the tools needed to back up and restore a single file or an entire system in a few simple steps.

As with the rest of the popular and growing My Book storage system family, the My Book Premium ES Edition is elegantly designed in a book shape, has a small footprint and offers simplification of its advanced features. There is no CD to install; the included software loads from the drive the first time it is plugged in. Its intelligent drive management system - SmartPower(TM) - automatically powers the device on and off with the computer; the Safe Shutdown(TM) feature ensures data is saved before shutting down; and LED activity lights, including a unique capacity gauge, make My Book Premium ES Edition easy to use.

My Book Premium ES is now available at select retail stores and online retailers at an estimated price of $179 USD for 320 GB capacity and $229 USD for 500 GB capacity.

About Western Digital (WD):
WD, one of the storage industry's pioneers and long-time leaders, provides products and services for people and organizations that collect, manage and use digital information. The company produces reliable, high-performance hard drives that keep users' data close-at-hand and secure from loss.

WD was founded in 1970. The company's storage products are marketed to leading systems manufacturers and selected resellers under the Western Digital and WD brand names. Visit the Investor section of the company's website (www.westerndigital.com) to access a variety of financial and investor information.

More from Electrical Equipment & Systems