Hansen-Balk Steel Treating Premieres Ipsen's TITAN® Vacuum Temper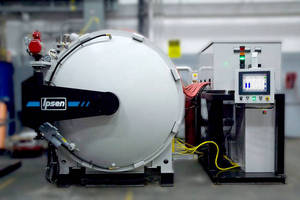 CHERRY VALLEY, IL – Hansen-Balk Steel Treating has purchased Ipsen's first TITAN® Temper vacuum furnace. This large commercial heat treater works in the Tool & Die, particularly Automotive Dies, and Aerospace industries. Their collaboration with Ipsen has been instrumental in the refinement of the TITAN T and its ability to deliver top-quality tempering results.

The TITAN T was shipped on a Tuesday and arrived at Hansen-Balk's facility in Grand Rapids, Mich. the following day. The TITAN T was designed as a dedicated batch furnace for tempering, aging, annealing and stress relieving, and Hansen-Balk's applications were factored into the furnace's testing. The low-temperature furnace incorporated shared data from both companies.

As a final stage of new product development, Ipsen partners with customers interested in premiering product lines to ensure the desired needs of the target market are being met, both following the furnace's purchase and throughout the furnace's long lifespan.

"Hansen-Balk has been an Ipsen customer for over 20 years," shares Hansen-Balk President, Martin Balk, "and we are very excited for what this new technology will do for our tempering processes."

The TITAN T true vacuum temper furnace combines cleanliness and efficiency through the use of both vacuum and convection heating. Bright tempering of sensitive alloys such as PH 17-4 (X5CrNiCuNb 16-4), Inconel 718 and 420 stainless steel (X42Cr13) have been proven through system testing. The standard furnace comes with graphite heating elements, stainless steel shielding and a graphite hearth.

About Hansen-Balk
For over 58 years, Hansen-Balk has been serving the diverse needs of customers ranging from small tool and die shops to major corporate clients by offering a wide variety of heat treatment processes. Committed to exceeding customers' expectations, they are continuously invested in offering the highest levels of technology to create innovative processes and flexible solutions, as well as offering experienced heat treatment specialists for customer support.

About Ipsen
Ipsen designs and manufactures industrial vacuum furnaces, atmosphere furnaces and supervisory control systems for a wide variety of thermal processing markets including: Aerospace, Commercial Heat Treating, Medical, Energy and Automotive. With production locations in Europe, America and Asia, along with representation in 34 countries, choosing Ipsen means choosing a partner in success. For more information, visit www.IpsenUSA.com.
Related