Hanger Machine cleans and prepares odd-shaped work pieces.
Press Release Summary: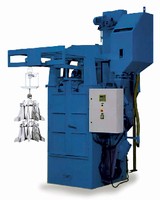 Self-contained Smartline(TM) Y Track Spinner Hanger Machine consists of blast cabinet built from welded steel frame with internal lining of ¼ in. manganese steel plating on blast side and opposing wall. Vertical bucket elevator, driven by 1.5 hp gear motor, transfers abrasive media from lower hopper. Two trolley hangers, which can each handle loads of 1,100 lb, allow for one trolley to load outside machine while other is used in blasting cycle.
---
Original Press Release:

Wheelabrator Smartline "Y" Track Spinner Hanger Machine



LaGrange, GA - (August 22, 2006) - The newly designed Wheelabrator Smartline(TM) "Y" Track Spinner Hanger Machine cleans and prepares odd-shaped work pieces that do not lend themselves well to table or tumble blasting machines. The Smartline "Y" Track Spinner Hanger Machine is self contained including ducting hoses to the dust collector. The unique in/out hook spinner drive reduces operator fatigue permitting parts to enter and exit the blast cabinet with ease. The "Y" Track overhead rail permits one work fixture to be unloaded while the loaded work fixture is in the machine being blasted, virtually doubling productivity. The Smartline "Y" Track Spinner Hanger Machine features a PLC equipped control panel for easy operation.

The Smartline "Y" Track Spinner Hanger Machine is pre-assembled and tested at the Wheelabrator factory, and the user will assemble the components according to a supplied instruction manual. The machine consists of a blast cabinet built from a welded steel frame with internal lining of one-fourth inch Manganese steel plating on the blast side and opposing wall. The cabinet doors are built from steel plating, and the door closure forms a labyrinth seal for shot retention while allowing air to intake ventilation. A vertical bucket elevator, driven by a 1.5 HP gear motor, transfers the abrasive media from the lower hoper. The "Y" configuration features a trolley monorail system that is detached from the main machine for easy shipping. Two trolley hangers, which can each handle loads of 1,100 pounds, allow for one trolley to load outside the machine while the other is used in the blasting cycle.

The Spinner Hanger's spinner drive engages with a work hanger sprocket which pulls the hanger and work piece into the cabinet. The spinner drive rotates the work piece in front of the wheel blast once inside the cabinet. The abrasive separator receives the contaminated abrasive media from the bucket elevator, and this is screened for large impurities and tramp metals. The abrasive media falls downward as the separator air washes the media, drawing the small particles to the ventilation system. The clean media cascades to the abrasive storage hopper and directs itself to the wheel via the abrasive control valves.

Wheelabrator Group is a global provider of surface preparation and finishing solutions. Committed to offering the broadest array of technologies, products, services and technical know-how, Wheelabrator Group works closely with customers to deliver the best solutions for their specific requirements. The company's strategically located and electronically linked offices allow Wheelabrator Group to provide unrivalled customer service and support worldwide. For more information on Wheelabrator visit the web site at www.wheelabratorgroup.com or e-mail [email protected].

Wheelabrator products are protected by patents issued and pending in the United States and other countries.

Wheelabrator reserves the right to change the specifications referred to in this literature at any time, without prior notice.

Smartline is a trademark of Wheelabrator Group, Inc.

FOR FURTHER INFORMATION:
Pamela Akin
Marketing Manager
Wheelabrator
800-544-4144, ext. 2295
[email protected]