Handle-It® Down Guard Adapter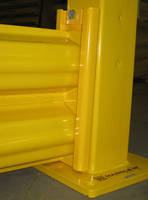 The down guard adapter allows guard rail to sit at floor level for ultimate protection against accidental forklift damage. The down guard adapter is attached to the bottom of the column which allows the guard rail to be placed at floor level. Using the down guard adapter, the guard rail would protect equipment, materials, or any other product located at floor level.

The included safety block is attached to the adapter to keep the rail safely on the ground. Down guard adapters are easy to install with instructions and hardware that is included with every adapter. All down guard adapters are painted powder coated safety yellow.

For additional information, please call 1.800.236.1080, fax at 414.453.9975, or visit their website at www.handleitinc.com.


More from Cleaning Products & Equipment