Handi-Hut's Combination Bus/Bike Shelters Provide Missing Link to Multi-Modal Transportation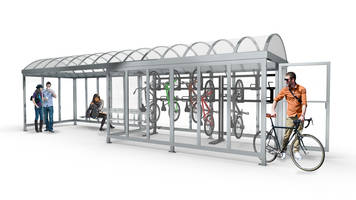 Transportation companies looking to increase ridership will find that combination bus/bicycle shelters from Handi-Hut Shelters to be the missing link in successful first/last mile transportation programs.
Many commuters live or work too far from a bus stop to walk to it. So, they drive instead. This is unfortunate since many commuters (and potential commuters) would gladly bike to a bus stop if transit companies provided safe and secure facilities to park their bikes. Understandably, concern about leaving their bikes unattended, unprotected and in the rain deters thousands of riders from biking to a bus stop.
A solution to this problem are combined bus/bike shelters from Handi-Hut Inc. based in Clifton, New Jersey.
Handi-Hut Inc. designs and produces a wide range of pre-fabricated outdoor shelters. In partnership with their sister company, Velodome Shelters, they have developed a line of combined bus/bike shelters that protect commuter's bikes from theft and the elements. The simplest models incorporate Handi-Hut's standard bus stop shelters with additional coverage for bicycles. Using Velodome's MaxRack system, bicycles are parked vertically and staggered to maximize space efficiency. MaxRacks have a solid steel lock bar for cyclists to lock their bike's frame and front wheel with a standard U-Lock. Unlike hollow steel tubes, MaxRacks solid steel bars provide greater theft deterrence. Options include solar lights and locks using long life, lithium batteries. In addition, both shelters can incorporate Handi-Hut's illuminated advertising panels to generate revenue.
Combined with a Velodome bike shelter, cyclists will now have the ability and confidence to bike to the bus.
Contact This Company Download Spec Sheet
More from Agricultural & Farming Products