Handheld XRF Analyzer offers all-day battery life.
Press Release Summary: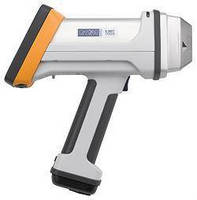 Equipped with 4.3 in. Blanview® transmissive LCD touchscreen for outdoor viewing, X MET7000 delivers professional materials analysis, verification, and screening. Unit can be loaded with variety of analysis methods to meet strict compliance regulations. Result screen can be user-customized for individual needs, and history view allows for browsing of older results and spectra. Available in 13 languages, analyzer is suited for PMI, metals and alloys, scrap sorting, and precious metals analysis.
---
Original Press Release:

Oxford Instruments Announces the New X-MET7000 Handheld XRF Analyser for Professional Materials Analysis and Screening



- Faster, Lighter, Smaller

- Largest colour touch-screen display and longest battery life available on the market

- Fastest time to first measurement

- Great performance and reliability built in as standard

Oxford Instruments is proud to launch a new faster, lighter and smaller handheld XRF analyser - the X MET7000. With one pull of the trigger, the X MET7000 delivers faster than ever results for materials analysis, verification and screening. This new look and feel now has a totally new fast user interface, new reporting power and simply unbeatable battery life for all day materials analysis.

X-MET7000 is designed for professionals requiring the ultimate in analytical accuracy across a number of industrial markets, including PMI, metals and alloys, scrap sorting and precious metals analysis. The X-MET7000 is offered with a choice of calibration packages tailored for a wide range of materials screening applications.

The analyser can be loaded with a totally flexible and unique selection of analysis methods to meet even the strictest compliance regulations. Packed with top-of-the-range features combined with new user-friendly software that is quick to learn and easy to use, powerful reporting tools and the longest battery life on the market.

The X-MET7000 has been designed with flexibility, accuracy and value for money in mind, for a variety of customer requirements in different industries:

o Metal industries: Positive Material Identification

o Metal recycling; Scrap sorting

o Gold and Precious Metals verification

o Mining processes: Ore exploration, on-site excavation control

o Environmental screening: heavy metals in soils

o Lead and other hazardous substances in paint, toys and other consumer goods

o RoHS / WEEE compliance screening

o Treated wood recycling

o Drywall screening in home inspection

The new design is based on extensive customer research and offers an improved, intuitive and easy-to-read graphical user interface. New attractive functional icons make learning how to use the instrument quicker. Easy to operate, even with gloves on.

The bright and high contrast 4.3" Blanview® transmissive LCD touch-screen ensures optimal outdoor viewing, even in direct sunlight. The result screen can easily be user-customised for individual needs e.g. to show only the elements of interest or create informative pass/fail messages. The history view allows for easy browsing of old results and spectra.

The user interface is available in 13 languages: English, Traditional and Simplified Chinese, Japanese, Korean, Russian, Spanish, Finnish, Portuguese, Polish, German, Italian and French.

So with quality, flexibility and reliability built in, powerful analysis, all day battery, clear bright screen and range of additional new features designed with the customer in mind, why compromise? Take a closer look at the new X-MET7000 from Oxford Instruments.

For further information see website: www.oxford-instruments.com/x-met7000
or contact: Neil Dagger, Global Marketing Manager, XRF, Oxford Instruments at: neil.dagger@oxinst.com or Email us at: industrial@oxinst.com

Oxford Instruments Industrial Analysis

Oxford Instruments, Industrial Analysis offers a range of analytical instruments designed for demanding quality control applications. From materials analysis to thickness gauging, the Industrial Analysis products incorporate the latest field proven technology, coupled with over 30 years of experience in designing, producing and supporting world class instruments.

X-MET handheld X-ray Fluorescence (XRF) analysers and our expanded range of ARC/Spark mobile Optical Emission Spectrometers (OES) are specifically designed for positive material identification, alloy analysis and screening. Our OES systems comprise: FOUNDRY-MASTER PRO, FOUNDRY-MASTER Xpert, FOUNDRY-MASTER COMPACT, PMI-MASTER PRO and TEST-MASTER PRO,

X-Supreme8000, Lab-X3500, MDX1000 XRF spectrometers span the price/performance range for routine chemical analysis. From sulfur in petroleum products to the analysis of limestone, we can match exactly the correct spectrometer to your needs.

For thickness gauging applications we offer handheld magnetic and eddy current gauges to full function, high performance XR systems. Our X-Strata980 systems provide world-class performance for coating thickness measurement.

Oxford Instruments plc

Oxford Instruments designs, supplies and supports high-technology tools and systems with a focus on research and industrial applications. It provides solutions needed to advance fundamental physics research and its transfer into commercial nanotechnology applications. Innovation has been the driving force behind Oxford Instruments' growth and success for over 50 years, and its strategy is to effect the successful commercialisation of these ideas by bringing them to market in a timely and customer-focused fashion.

The first technology business to be spun out from Oxford University over fifty years ago, Oxford Instruments is now a global company with over 1900 staff worldwide and is listed on the FTSE250 index of the London Stock Exchange (OXIG). Its objective is to be the leading provider of new generation tools and systems for the research and industrial sectors.

This involves the combination of core technologies in areas such as low temperature, high magnetic field and ultra high vacuum environments, Nuclear Magnetic Resonance, X-ray, electron and optical based metrology, and advanced growth, deposition and etching.
Oxford Instruments aims to pursue responsible development and deeper understanding of our world through science and technology. Its' products, expertise, and ideas address global issues such as energy, environment, security and health.

More from Sensors, Monitors & Transducers