Handheld Wireless Terminals read 1D and 2D barcodes.
Press Release Summary: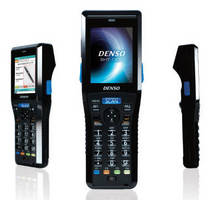 In addition to Advanced Scan Plus™ CCD technology in 1D model and area sensor in 2D model, BHT-1300 Series features wireless communication, WPA/WPA2 network security, and color LCD that can be read in various lighting conditions. Size and weight enable extended use by operators, while dome-shaped keys facilitate operation even with gloved hands. Devices can be used online between battery charges for up to 28 hr continuous, and 2D model can read codes from any angle within 360°.
---
Original Press Release:

New DENSO BHT-1300 1-D and 2-D Handheld Wireless Barcode Terminals



Compact, lightweight design offers advanced-technology features at an affordable price



LONG BEACH, Calif. -- DENSO ADC announced its new BHT-1300 Series of 1-D and 2-D handheld wireless barcode terminals. The compact devices are designed with advanced features that increase operator efficiency, yet they have an affordable price. Robust construction, backed by an unusually long, three-year warranty, ensures long-term reliability.



"Our new BHT-1300 Series terminals are lightweight, fast and very easy to use," said Fran Labun, vice president, Sales Group. "For either 1-D or 2-D inspection, they significantly speed up scanning operations and improve productivity. Plus, they're affordable."



The body of the BHT-1300 Series terminals is 15 percent smaller and lighter than previous models, making the devices comfortable to hold for long periods of time. Dome-shaped keys are easy to operate, even while wearing gloves. A large, extra-bright color LCD display with a wide viewing angle allows quick, trouble-free reading in a variety of lighting conditions, including bright sunlight.



DENSO's Advanced Scan PlusTM CCD technology in the 1-D model and an area sensor in the 2-D model offer faster scanning than lasers. The 2-D model can read codes from any angle within 360 degrees, reducing working time by up to 30 percent.



Fast, reliable wireless communication supports the latest IEEE802.11b/g/n standards, for rapid transmission of large amounts of data. A proprietary DENSO power-saving design allows the devices to be used online between battery charges for up to 28 hours continuously — the longest operating time in their class. WPA/WPA2 network security prevents unauthorized data access.



In tests, the ruggedly built BHT-1300 terminals withstand being dropped onto concrete 30 times from a height of 2.0 meters (6.5 feet) and 30 additional times from 1.2 meters (3.9 feet).



For more information about the new BHT-1300 Series terminals, visit www.denso-adc.com/products/bht-1300-series.



DENSO ADC is the Americas sales arm of DENSO Wave Incorporated, a pioneer of CCD technology and inventor of the QR Code. DENSO Wave is among the world's largest manufacturers of mobile data-capture systems.



DENSO ADC offers a wide range of 1-D and 2-D barcode and scanners, as well as the industry's only QR Code-generating software that ensures ISO-compliant, optimally readable codes. DENSO ADC manages sales of its barcode-scanner products throughout North and South America. For more information, visit www.denso-adc.com.



DENSO Corporation, headquartered in Kariya, Aichi prefecture, Japan, is a leading global automotive supplier of advanced technology, systems and components in the areas of thermal, powertrain control, electronics and information and safety. Its customers include all the world's major carmakers. Worldwide, the company has more than 200 subsidiaries and affiliates in 36 countries and regions (including Japan) and employs more than 130,000 people. Consolidated global sales for the fiscal year ending March 31, 2013, totaled US$38.1 billion. Last fiscal year, DENSO spent 9.4 percent of its global consolidated sales on research and development. DENSO common stock is traded on the Tokyo and Nagoya stock exchanges.



Currently, in North America, DENSO employs more than 14,000 people at 28 consolidated companies and affiliates. Of these, 26 are manufacturing facilities located in the U.S., Canada and Mexico. In the U.S. alone, DENSO employs more than 10,000 people in California, Michigan, North Carolina, South Carolina, Tennessee, Kentucky, Georgia, Iowa, Ohio and Arkansas. DENSO's North American consolidated sales totaled US$6.8 billion for the fiscal year ending March 31, 2013.



QR Code® is a registered trademark of DENSO Wave Incorporated.



Contacts

DENSO ADC

Eddie Stevenson, 310-952-7955

CIS Marketing Manager

eddie_stevenson@denso-diam.com

www.denso-adc.com

More from Optics & Photonics