Handheld Transmitter provides wireless crane/hoist control.
Press Release Summary: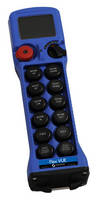 Available in 400 MHz and 2.4 GHz, Flex VUE(TM) has built-in color display that keeps operator informed of system status and diagnostics - battery life, signal strength, warnings - at all times. Operators can configure transmitter directly via display menu, and available 2-way feedback provides information on machine parameters, alarms, and command confirmation. For accurate and smooth operation, 4, 8, or 12 two-step or stepless pushbutton configurations are available.
---
Original Press Release:

Magnetek Introduces Innovative New Handheld Transmitter with Graphic Display that Provides Flexible, Proportional Wireless Control for Crane and Hoist Applications



MENOMONEE FALLS, Wis. - Magnetek, Inc. today announced the introduction of its new Flex VUE(TM) wireless controller for crane and hoist and other industrial applications. The Flex VUE is based on Magnetek's popular Flex(TM) line of radio controllers, with the addition of a graphic display that provides advanced communications and convenience. "Crane and hoist operators have embraced the Flex line for its flexible and reliable performance, and its ergonomic and lightweight design," said Eugene Novak, Magnetek's Radio Controls Product Manager. "In the Flex VUE we've added a graphic display for customers looking for a handheld device with the advanced communications, configuration convenience and two-way feedback they appreciate in our bellybox transmitters."

The high resolution color display built into the Flex VUE handheld transmitter keeps the operator informed of system status and diagnostics at all times, including battery life, signal strength and warning symbols. Operators can quickly and easily configure the transmitter right through the display menu. Two-way feedback is available providing information on machine parameters, alarms and command confirmation. 4, 8 or 12 two-step or stepless pushbutton configurations are available providing accurate and smooth operation. The Flex VUE is available in 400MHz and 2.4GHz

Customers can combine Flex VUE with the versatile Flex M wireless receiver which features a modular plug-and-play design, similar to a PLC, and allows one plant to use the same type of receiver component for any size application.

The Flex VUE's compact design is rugged enough to handle outdoor and harsh industrial environments, and its quick response allows for precise control. Magnetek's innovative, cost-effective wireless radio controls are designed to meet customer specifications, reducing internal engineering and manufacturing costs, improving time to market and enhancing equipment performance. The Company designs highly durable transmitters that are configurable to meet the needs of a variety of industrial applications.

For more information about the new Flex VUE wireless controller or any of Magnetek's advanced wireless controls, visit the Company's website at www.magnetekmh.com.

About Magnetek

Magnetek, Inc. is a leading provider of digital power and motion control systems used in overhead material handling, elevator, and energy delivery applications. The Company is North America's largest supplier of digital drive systems for industrial cranes, hoists and monorails. Magnetek provides Energy Engineered® drives, radio remote controls, motors, and braking and collision avoidance subsystems to North America's foremost overhead material handling crane builders. Magnetek is also the world's largest independent builder of highly integrated digital motion control systems for high-rise, high-speed elevators. In energy delivery, the Company develops and markets digital power inverters that connect renewable energy sources to the utility grid, and is a leading independent supplier of digital motion control systems for underground coal mining applications. Magnetek is headquartered in Menomonee Falls, Wis. in the greater Milwaukee area and operates manufacturing facilities in Pittsburgh, Pa., and Bridgeville, Pa., as well as Menomonee Falls.

Related