Handheld Tool combines insulation tester and DMM.
Press Release Summary: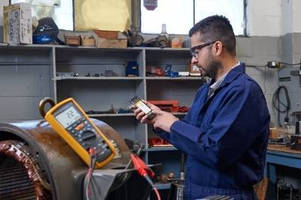 Suitable for troubleshooting and preventive maintenance applications, Fluke® 1587 FC Insulation Multimeter combines wireless digital insulation tester plus full-featured true-rms digital multimeter. Tool features VFD low-pass filter for accurate motor drive measurements, insulation tests of 0.01 MΩ to 2 GΩ, and insulation test voltages of 50, 100, 250, 500, and 1,000 V. For safety, meter includes auto-discharge of capacitive voltage and live circuit detection.
---
Original Press Release:

Fluke 1587 FC Insulation Multimeter Combines Two Powerful Tools in One for Enhanced Versatility



New wirelessly enabled insulation tester plus full-featured true-rms DMM saves time, eliminates recording errors



EVERETT, Wash., -- Fluke Corp. introduces the Fluke(®) 1587 FC Insulation Multimeter, a high performance wireless digital insulation tester plus full-featured true-rms digital multimeter (DMM) combined into one versatile handheld tool. The wireless Fluke 1587 FC provides enhanced versatility for both troubleshooting and preventive maintenance applications.



As part of Fluke Connect(®) -- the industry's largest system of software and more than 30 wireless test tools -- the 1587 FC adds four powerful new diagnostic capabilities when used in conjunction with the Fluke Connect(®) smartphone app:



--  PI/DAR (polarity index/dielectric absorption ratio) with TrendIt(TM) graphs identifies moisture and contamination problems faster;

--  Memory storage through the mobile Fluke Connect app reduces errors by eliminating the need to write down results, and saves data to the Fluke Cloud(TM) for historical tracking over time;

--  Temperature Compensation through Fluke Connect app helps establish accurate baselines and relevant historical comparisons;

--  Historical tracking and trending of assets using the Fluke Connect(®) Assets software identifies degradation over time, allowing real-time decisions in the field.



The CAT III 1000 V/CAT IV 600 V safety-rated 1587 FC features a VFD low-pass filter for accurate motor drive measurements, insulation tests of 0.01 megaohm to 2 gigaohm, and insulation test voltages of 50, 100, 250, 500, and 1000V. It also includes user safety features like auto-discharge of capacitive voltage and live circuit detection that prevents insulation tests if voltage greater than 30 V is measured on the unit under test.



Technicians can use the 1587 FC in conjunction with the free Fluke Connect app to record and store measurements, then combine measurement data from multiple Fluke Connect test tools to create and share reports from the job site via email and collaborate in real time with other colleagues with ShareLive(TM) video calls, increasing productivity in the field.



The 1587 FC also provides critical data to the new Fluke Connect Assets software, giving managers comprehensive dashboard views of all critical equipment -- including baseline, historical, and current test tool measurement data -- enabling easy set up and sustainment of a preventive maintenance (PM) or condition-based maintenance (CBM) system with only minimal investment.*



For more information on the Fluke 1587 FC Insulation Multimeter, visit: www.fluke.com/insulation.



For information on Fluke tools and applications, or to find the location of your nearest distributor, contact Fluke Corporation, P.O. Box 9090, Everett, WA USA 98206, call (800) 44-FLUKE (800-443-5853), fax (425) 446-5116, e-mail fluke-info@fluke.com or visit the Fluke Web site at http://www.fluke.com.



About Fluke

Founded in 1948, Fluke Corporation is the world leader in compact, professional electronic test tools. Fluke customers are technicians, engineers, electricians, and metrologists who install, troubleshoot and manage industrial, electrical and electronic equipment and calibration processes.



Fluke is a registered trademark of Fluke Corporation. The names of actual companies and products mentioned herein may be the trademarks of their respective owners. For more information, visit the Fluke website.



* Within your provider's wireless service area and subject to your plan's pricing and other terms. Fluke Connect is not available in all countries.  Some Fluke Connect features require a subscription subject to payment terms and may not be available in all countries.



For more information:

Dan Wright

Communications Manager

(425) 446-5638

dan.wright@fluke.com

More from Optics & Photonics