Handheld Spotlight suits industrial inspection applications.
Press Release Summary: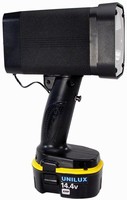 Tracker creates short-duration, high-intensity light pulses that make webs moving at high speeds appear motionless, making surface defects on parts stand out for identification and correction. Powered by Extended Life Battery Kit, stroboscopic device creates 60 x 60 cm spot from 90 cm, and runs on 15.5 Vdc rechargeable NiCad battery or ac power. Portable light features comfort grip handle and 5-digit LED readout, and can be controlled by 2 harmonic keys.
---
Original Press Release:

Unilux Tracker Puts Handheld Spotlight on Product Inspection and Machine Maintenance



SADDLE BROOK, NJ December 6, 2006 -Tracker, the handheld stroboscopic industrial inspection light from Unilux, shows the versatility of a high intensity spotlight pattern on both product inspection and equipment maintenance. Unilux, the world's leading designer and manufacturer of strobe lights for industrial surface inspection, is meeting two customer needs with a portable low cost-high powered light source that can run for an entire shift on a single charge with its battery kit.

"Tracker is a very versatile tool," said Mike Simonis, President, Unilux. "Printers and converters can use it to find defects during printing, converting, slitting and rewinding paper, film and foil at full production speed. That's mission-critical as consumers demand higher quality products and packaging, and Unilux has an outstanding track record in helping printers and converters meet or exceed their customers' quality specs and deliver on schedule.

"At the same time, Tracker's ability to focus its bright light on a 60 x 60cm spot from 90cm allows maintenance personnel to get a really close look at moving parts in a printing or converting plant's equipment. It can provide sufficient light at up to 1.5m, and it can be synched to a still or video camera to study a problem in greater detail."

Tracker's new Extended Life Battery Kit enables the light to run twice as long on a charge as before at half the cost of Unilux's older model handheld strobe lights. Tracker also features a "comfort grip" handle and a quick-change feature. The light can run on a 15.5 VDC rechargeable NiCad battery, which typically provides enough power for normal use during a shift, or on AC power. The light has a five-digit LED readout and can be controlled by two harmonic keys.

Unilux lights create short-duration, high-intensity light pulses that make webs moving at high speeds appear motionless. This, in turn, provides "frozen" images that make surface defects stand out for identification and correction. The strobe's pulses capture the web for micro seconds in the eye of a machine operator or maintenance technician. This provides a split-second view of the web and the quality of the printing or a view of the condition of a part on a piece of equipment.

When defects are found in printed products, the areas can be marked for removal during the rewinding or slitting process. More important, the operator can determine the cause of the defect and may be able to take corrective action without losing valuable production time. Printers and converters can avoid the expense of shipping defective material and gain a real benefit of increased customer confidence in their work.

Unilux Inc., headquartered in Saddle Brook, NJ, is in its 44th year of designing and manufacturing industrial surface inspection lighting systems for the printing/converting, metals and papermaking industries and heavy-duty strobe lighting systems for the film and video industry. Unilux currently has sales representatives in 29 countries in North America, Latin America, Europe, Asia, Australia and Africa along with four service centers. For additional information, contact Unilux, Inc., 59 North Fifth St., Saddle Brook, NJ 07663 USA. Phone: 800-522-0801 (US only) 201-712-1266 (Worldwide) Fax: 201-712-1366 Internet: www.unilux.com.

The battery-powered, handheld Tracker strobe light from Unilux is a versatile tool for inspecting printing, converting, rewinding and slitting operations and for maintenance and repair work on moving equipment parts.

More from Services